Wireless keyboard with Silent switches ,105 keys,black,Size 442*142*17.5mm,460g,AD layout
Šifra artikla:
CNS-HKBW02-AD
Dostava:
Iznos dostave 25kn
Može biti na Vašoj adresi u roku 1-3 radna dana
Dostupnost artikla:
Artikl je dobavljiv isti ili najkasnije drugi dan
Ostvarite 10% popusta na virmansko, gotovinsko i crypto plaćanje.
Popust se obračunava na kraju narudžbe.
Pregled vrsta plaćanja
Pregled vrsta plaćanja
Popust za gotovinu:
121,55 Kn
Gotovina, pouzeće, internet bankarstvo ili kriptovalute.
Kartice jednokratno:
128,31 Kn
Platite karticom jednokratno ili putem Paypala.
Obročna otplata:
135,06 Kn
Platite do 36 rata bez kamata i naknada.
Leanpay do 36 rata:
135,06 Kn
Leanpay omogućuje brzo i jednostavno plaćanje na rate preko interneta. Za plaćanje na rate u košarici odaberite Leanpay kao vrstu plaćanja. Informativni izračun ne uključuje troškove procjene rizika.
Više informacija
|
Provjerite svoj limit
Wireless keyboard - the Velvet tread series
HKB-W20
This wireless keyboard from the new Velvet Click series embodies all current computer accessories trends: durability, convenience, and a quiet clicking. The keyboard is compatible with both Windows and Mac OS. The stable wireless connection allows you to work up to 10 meters away. The power-saving technology significantly extends the battery life. Ergonomic design, classic form factor with a numeric keypad, velvet-soft silent keys, 13 multimedia functions – all this makes this model an excellent choice for everyday work.
Features:

The Velvet Tread series
Ergonomic design
Connection: wireless, 2.4 GHz
104 keys
Silent keys with premium low-force key switches
Life cycle of switches: up to 10 million clicks
13 multimedia functions
Working distance: up to 10 meters (in open space)
Keyboard size: 442x142x17.5 mm
Batteries included: 2 AAA
Compatible with: Windows / Mac OS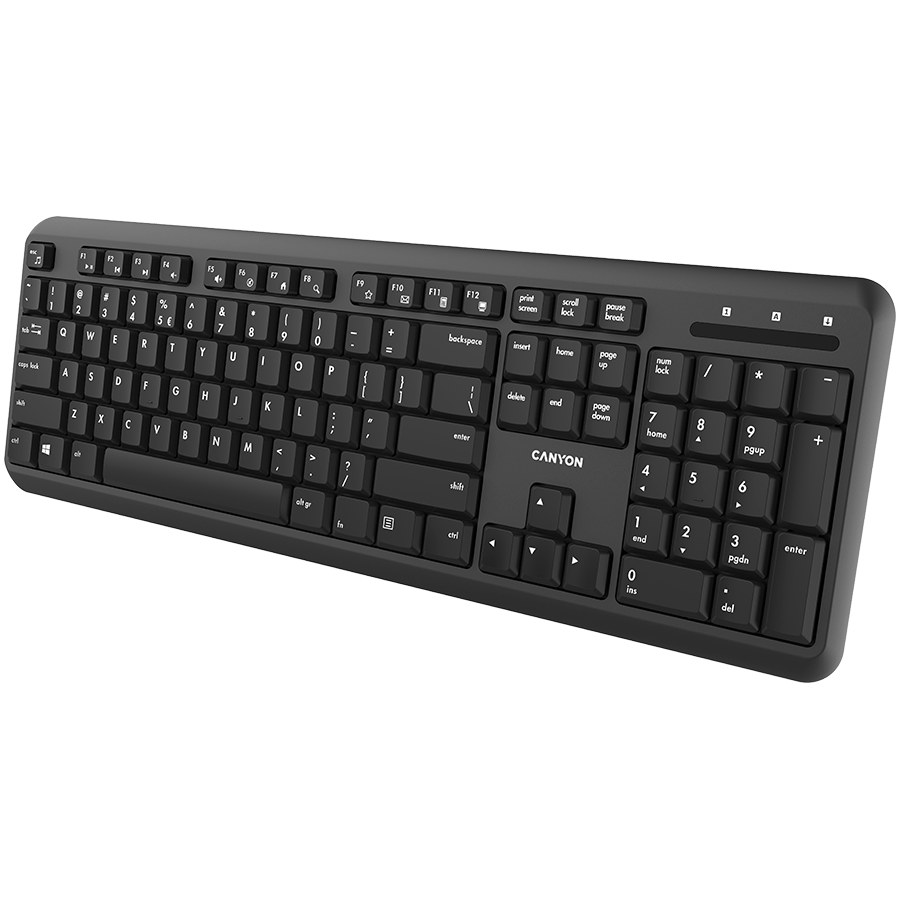 Marketing Model Name: HKB-W20
Commercial Name: Keyboard Canyon HKB-W20 EN/AD Velvet Wireless Black (CNS-HKBW02-AD)
Device Location: External
Connectivity Technology: Wireless
Number of Keys: 105
Battery Technology: Alkaline
Supports Battery Type Classification: AAA
Battery Included Quantity: 2
Localization: Adriatic
External Color: Black
Compliant Devices: Mac
Width (mm): 142 mm
Height (mm): 17.5 mm
Depth (mm): 442 mm
Nominal Weight: 0.46 kg
Warranty Products Returnable: Yes
Warranty Term (month): 24 month(s)
Warranty validation Criteria: Serial Number
Pack Length (mm): 470 mm
Pack Width (mm): 35 mm
Pack Height (mm): 168 mm
Pack Weight Brutto (kg): 0.593 kg
Pack Weight Netto (kg): 0.458 kg
Pieces in pack: 1
Box Length (mm): 485 mm
Box Width (mm): 380 mm
Box Height (mm): 358 mm
Box Weight Brutto (kg): 12.36 kg
Retail Packaging Net Weight Carton: 0.135 kg
Retail Packaging Net Weight Plastic: 0 kg
Packs in Box: 20
Package Type: Retail
EAN Code: 5291485007294
Quantity of the boxes per pallet (by air)(pcs): 28
Quantity of the packs per pallet (by air)(pcs): 560
Dimensions of pallet (by air)(cm): 97.4x96x131 cm
Quantity of the boxes per pallet (by sea)(pcs): 42
Quantity of the packs per pallet (by sea)(pcs): 840
Dimensions of pallet (by sea)(cm): 97.4x96x204 cm
Ostale informacije