Smart watch, 1.3inches IPS full touch screen, Alloy+plastic body,IP68 waterproof, multi-sport mode with swimming mode, compatibility with iOS and android,Black-Red with extra black belt, Host: 262x43.
Šifra artikla:
CNS-SW81BR
Dostava:
Iznos dostave 19kn
Može biti na Vašoj adresi u roku 1-3 radna dana
Dostupnost artikla:
Artikl je dobavljiv isti ili najkasnije drugi dan
Ostvarite 10% popusta na virmansko i gotovinsko plaćanje
obračunava se na kraju narudžbe -
382,78 Kn
Obročno plaćanje:
3 * 141,77 Kn
6 * 70,89 Kn
12 * 35,44 Kn
Stylish and sporty smartwatch Oregano
This stylish gadget will spice up any outfit you wear! We've named it Oregano. Just like the famous spice fits all specialties, our new smart accessory will improve any style and become an indispensable element of your wardrobe. All fashionistas will enjoy the three variations of host colors and two straps of different styles. The quality and functionality of these smartwatches are impressive as well: high-end materials, bright IPS touch screen, function key, pulse, and step monitoring, multisport mode, music control, notifications from a phone and social networks, weather forecasts and more. The level of water resistance allows you to use the watch in any weather and even during swimming. In synchronization with the Canyon Life app, this gadget will make any activity comfortable – from walking and jogging to intense workout!
Features:

• 1.3'' IPS touchscreen

• IP68 waterproof (full protection)

• Multisport

• Pedometer

• Camera remote control

• Multimedia player control

• Wide-set of sensors

• Incoming call alerts

• Noti?cations

• Canyon Life app - compatibility with iOS 10.0+ and Android 5.0+

• Weather indication

• Battery capacity - 200 mAh

• Up to 5 days of active work

• Up to 30 days of standby time

• 2 straps included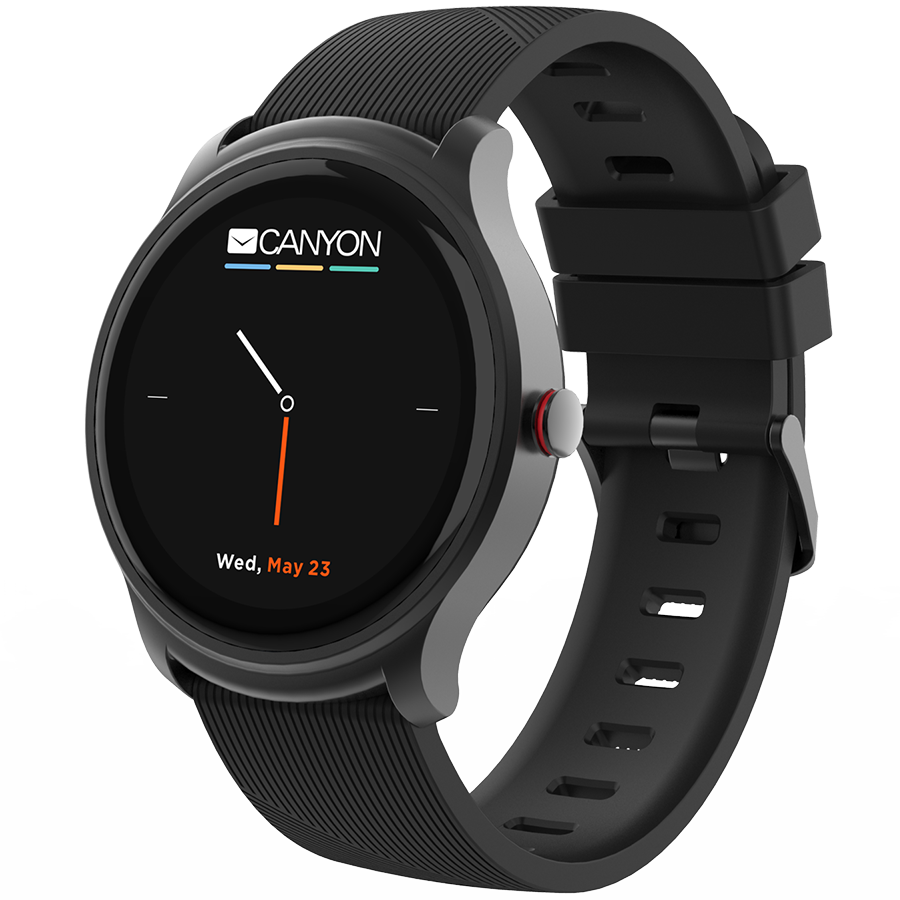 Article: CNS-SW81BR
Proizvođač: CANYON
Product Type: Smart Watch
Case Material: Plastic Metal
Watch Features: Multisport Mode
Time Display: Digital
Protection Standarts: IP68
Display Size: 1.30"
Display Technology: IPS
Display Touchscreen: Yes
External Color: Black/Red
Requires Operating System: Android iOS
Depth (mm): 267 mm
Height (mm): 43.6 mm
Width (mm): 12.5 mm
Nominal Weight: 0.06 kg
Warranty Products Returnable: Yes
Warranty Term (month): 12 month(s)
Warranty validation Criteria: Serial Number
Pack Length (mm): 93 mm
Pack Width (mm): 41 mm
Pack Height (mm): 164 mm
Pack Weight Brutto (kg): 0.222 kg
Pack Weight Netto (kg): 0.116 kg
Pieces in pack: 1
Box Length (mm): 523 mm
Box Width (mm): 388 mm
Box Height (mm): 210 mm
Box Weight Brutto (kg): 12.4 kg
Retail Packaging Net Weight Carton: 0.104 kg
Retail Packaging Net Weight Plastic: 0.002 kg
Packs in Box: 48
Packs per Pallet: 2592
Package Type: Retail
EAN Code: 5291485005955
Quantity of the boxes per pallet (by air)(pcs): 36
Dimensions of pallet (by air)(cm): 1170x1010x1410 mm
Quantity of the boxes per pallet (by sea)(pcs): 54
Dimensions of pallet (by sea)(cm): 1170x1010x2110 mm
Ostale informacije