CANYON,Gaming Mouse with 7 programmable buttons, Pixart 3519 optical sensor, 4 levels of DPI and up to 4200, 5 million times key life, 1.65m Ultraweave cable, UPE feet and colorful RGB lights, Black,
Šifra artikla:
CND-SGM11B
Dostava:
Iznos dostave 25kn
Može biti na Vašoj adresi u roku 1-3 radna dana
Dostupnost artikla:
Artikl je dobavljiv isti ili najkasnije drugi dan
Ostvarite 10% popusta na virmansko, gotovinsko i crypto plaćanje.
Popust se obračunava na kraju narudžbe.
Pregled vrsta plaćanja
Pregled vrsta plaćanja
Popust za gotovinu:
163,86 Kn
Gotovina, pouzeće, internet bankarstvo ili kriptovalute.
Kartice jednokratno:
172,97 Kn
Platite karticom jednokratno ili putem Paypala.
Obročna otplata:
182,07 Kn
Platite do 36 rata bez kamata i naknada.
Puncher GM-11
The arms muscles tend to get tired during any activity, and especially during prolonged work at the computer. To help you play restfully without excessive muscle strain, we created a mouse with a weight of only 69 grams. Weight reduction is achieved due to an innovative perforated housing and a durable cable with a novel ultra-light weave. Pixart PAW3519 optical sensor, 7 robust programmable buttons, optional parameter setting software, and macros open up extensive customization options. The shape of the mouse is suitable for both hands, and the perforation lets air cool the palms, preventing them from sweating. Mouse feet are made of high molecular weight polyethylene so that it can glide on any surface flawlessly. An excellent weapon to win in your favorite games!
Features:
Sensor Pixart PAW3519
Adjustable DPI 800/1600/2400/4200
7 programmable buttons
Ultra lightweight 69g
UPE feet
6 modes of backlight effects
1.65m ultra-weave USB cable with ferrite ring
Additional software for settings setup
Polling rate:125/250/500/1000Hz
Button lifespan: up to 5 mln clicks
Scanning frequency: 4000 FPS
Maximum acceleration: 10G
Maximum moving speed: 48 ips
Onboard memory
Macro functions
System requirements: Windows 10/8/7 / Mac OS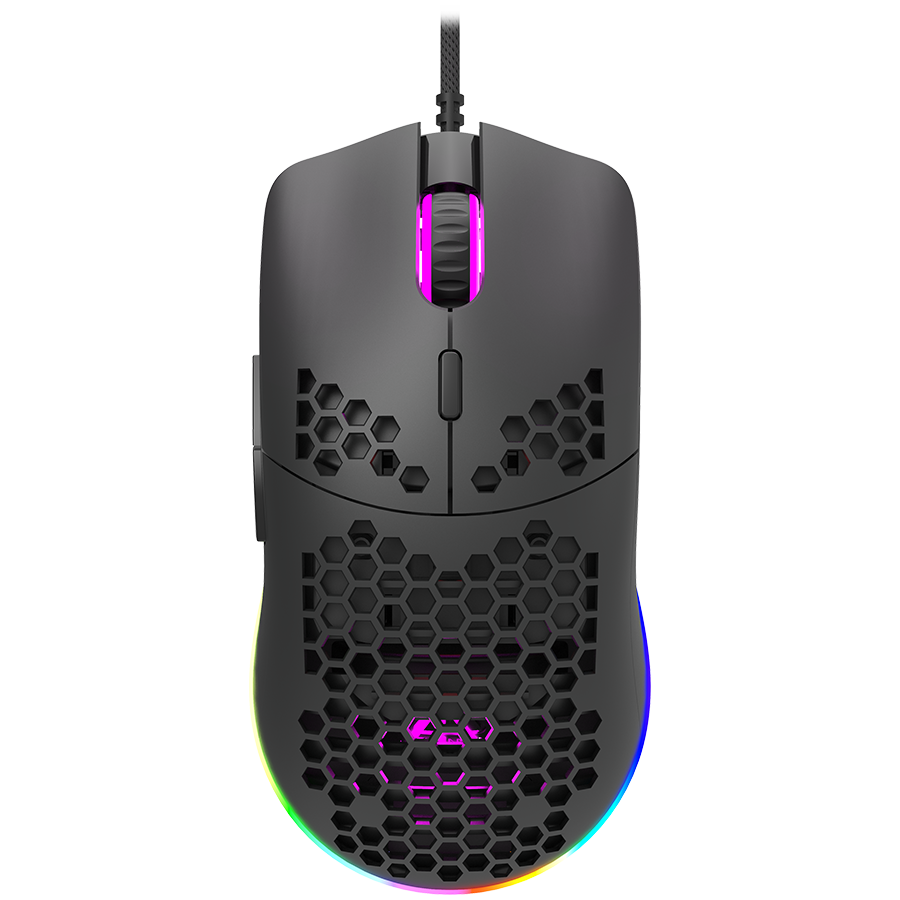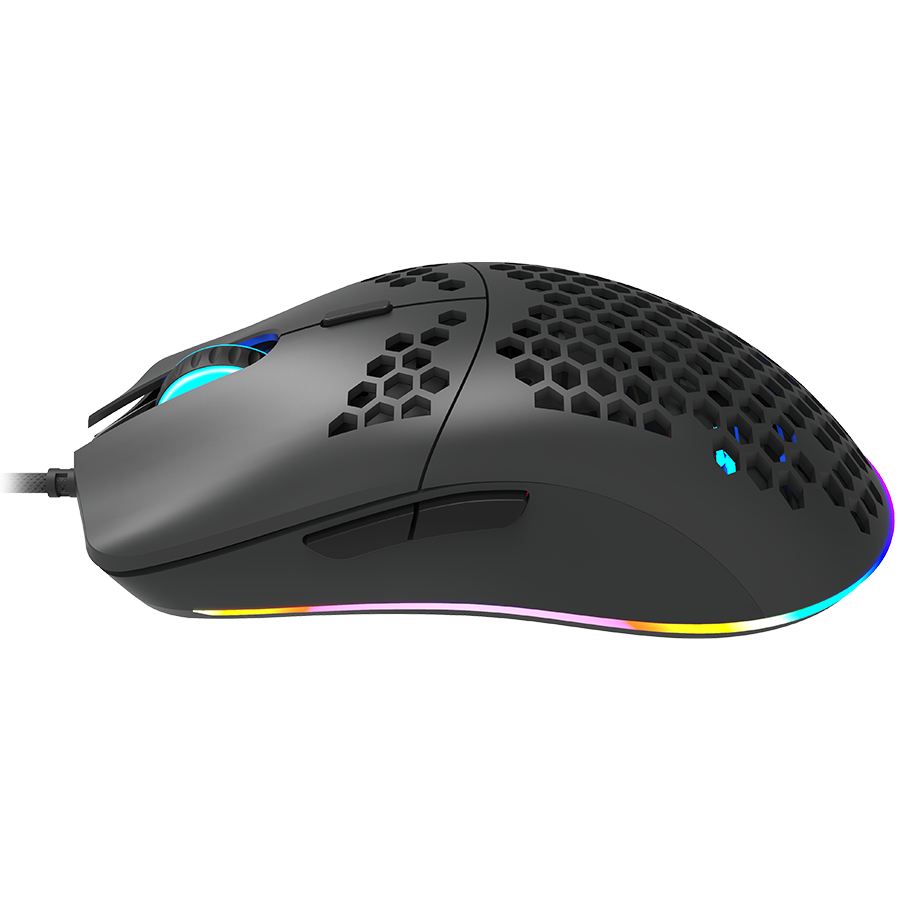 Marketing Model Name: Puncher GM-11
Commercial Name: Mouse Canyon Puncher GM-11 RGB 7buttons Wired Black (CND-SGM11B)
Device Location: External
Connectivity Technology: Wired
Interface: USB
Number of Buttons: 7
Button Function: Programmable
Mouse Sensor: Pixart 3519
Movement Resolution: 4200 dpi
Pointing Device Technology: Optical
Mouse Features: Scrolling WheelRGB lighting
External Color: Black
Cable Length: 1.65 m
Included Accessories: Quick Start Guide
Depth (mm): 128.5 mm
Height (mm): 67 mm
Width (mm): 37.5 mm
Nominal Weight: 105 g
Warranty Products Returnable: Yes
Warranty Term (month): 24 month(s)
Warranty validation Criteria: Serial Number
Pack Length (mm): 150 mm
Pack Width (mm): 55 mm
Pack Height (mm): 196 mm
Pack Weight Brutto (kg): 0.18 kg
Pack Weight Netto (kg): 0.115 kg
Pieces in pack: 1
Box Length (mm): 585 mm
Box Width (mm): 320 mm
Box Height (mm): 420 mm
Box Weight Brutto (kg): 8.02 kg
Retail Packaging Net Weight Carton: 0.061 kg
Retail Packaging Net Weight Plastic: 0.007 kg
Packs in Box: 40
Package Type: Retail
EAN Code: 5291485007447
Ostale informacije