CANYON WS-404 4in1 Wireless charger, with input 12V3A DC Eu adapter , Output 15W/10W/7.5W/5W, 161*105*138mm, 0.510Kg, Black
Šifra artikla:
CNS-WCS404B
Dostava:
Iznos dostave 3,50 EUR
Može biti na Vašoj adresi u roku 1-3 radna dana
Dostupnost artikla:
Artikl je dobavljiv isti ili najkasnije drugi dan
Ostvarite 10% popusta na virmansko, gotovinsko i crypto plaćanje.
Popust se obračunava na kraju narudžbe.
Pregled vrsta plaćanja
Pregled vrsta plaćanja
Popust za gotovinu:
51,21 EUR
Gotovina, pouzeće, internet bankarstvo ili kriptovalute.
Kartice jednokratno:
54,06 EUR
Platite karticom jednokratno ili putem Paypala.
Obročna otplata:
56,90 EUR
Platite do 36 rata bez kamata i naknada.
Leanpay do 36 rata:
56,90 EUR
Leanpay omogućuje brzo i jednostavno plaćanje na rate preko interneta. Za plaćanje na rate u košarici odaberite Leanpay kao vrstu plaćanja. Informativni izračun ne uključuje troškove procjene rizika.
Više informacija
|
Provjerite svoj limit
4-in-1 Wireless Charging Station
WS - 404
This wireless charging station will allow you to charge your gadgets quickly and safely and get rid of unnecessary wires on your desktop. You can charge 4 devices simultaneously, including 2 smartphones, one of which is via the magnetic wireless module. Thanks to the intelligent «Bland» chipset, each device will be assigned the optimal charge capacity. As a result, gadget batteries will not overheat, which means they will last much longer. The station is compatible with any smartphone and headphones that support the Qi standard. You can also charge Apple Watch Series smartwatches from 2 to 7. An excellent gadget for those who love order and appreciate minimalism!
Features:
Simultaneous charging of up to 4 gadgets
2 smartphones can be charged in parallel
Qi magnetic wireless charging module
Strong magnetic connection for fast charging
Led indicator
«Bland» intelligent chipset
3 types of protection: OCP/OTP/FOD
Power supply unit included, 1.5 m
Input voltage: 12V/3A
Output power: 15W / 10W / 7.5W / 5W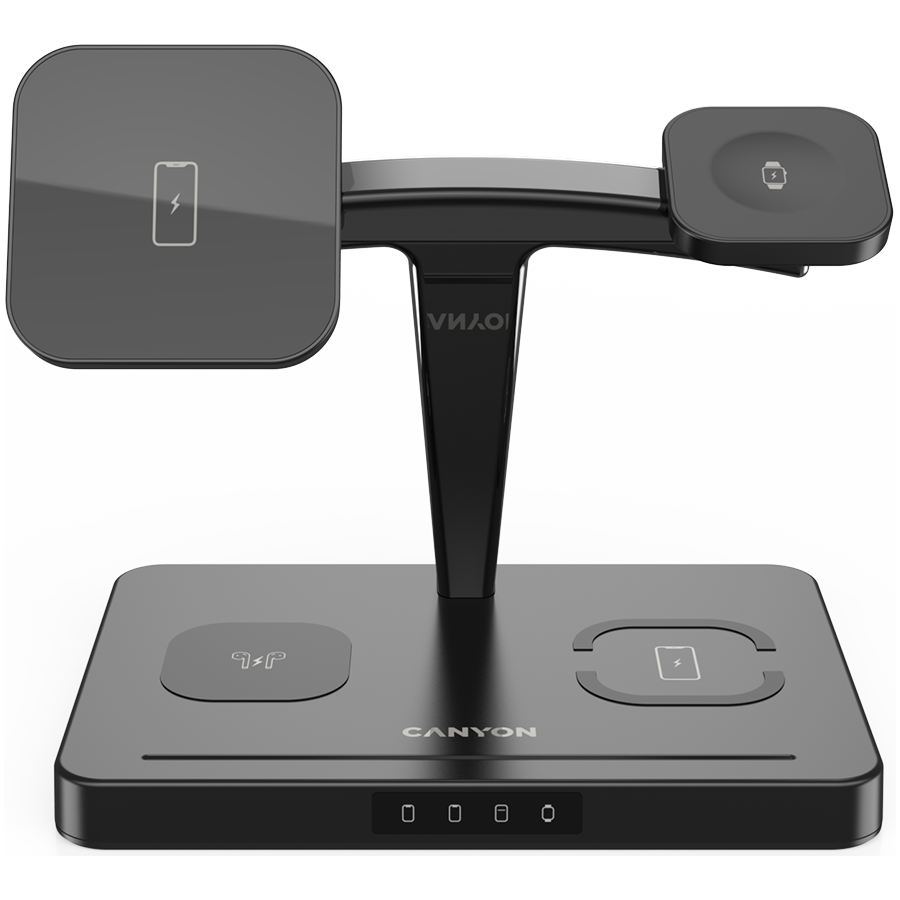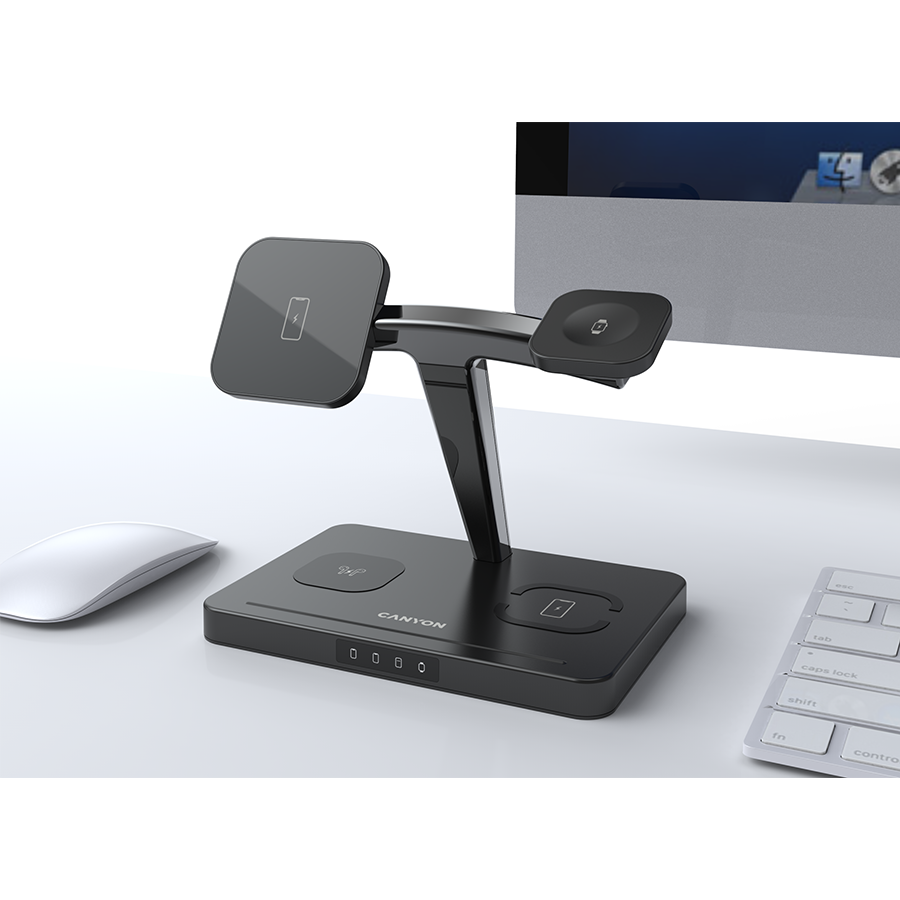 Marketing Model Name: WS-404
Commercial Name: Wireless charger Canyon WS-404 15W 4in1 Black (CNS-WCS404B)
Power Device Type: Induction Charger
Power Device Location: External
Input Voltage: DC 12 V
Rated Input Current: 3 A
Maximum Output Power: 15 W
Power Adapter and Power Supply Features: Wireless Charging
External Color: Black
Depth (mm): 138 mm
Height (mm): 105 mm
Width (mm): 161 mm
Nominal Weight: 0.51 kg
Warranty Products Returnable: Yes
Warranty Term (month): 24 month(s)
Warranty validation Criteria: Serial Number
Pack Length (mm): 170 mm
Pack Width (mm): 124 mm
Pack Height (mm): 134 mm
Pack Weight Brutto (kg): 0.642 kg
Pack Weight Netto (kg): 0.51 kg
Pieces in pack: 1
Box Length (mm): 410 mm
Box Width (mm): 300 mm
Box Height (mm): 360 mm
Box Weight Brutto (kg): 10.27 kg
Retail Packaging Net Weight Carton: 0.132 kg
Retail Packaging Net Weight Plastic: 0 kg
Packs in Box: 16
Package Type: Retail
EAN Code: 5291485008642
Quantity of the boxes per pallet (by air)(pcs): 27
Quantity of the packs per pallet (by air)(pcs): 432
Dimensions of pallet (by air)(cm): 120x109.5x100 cm
Quantity of the boxes per pallet (by sea)(pcs): 45
Quantity of the packs per pallet (by sea)(pcs): 720
Dimensions of pallet (by sea)(cm): 120x195x100 cm
Ostale informacije