CANYON WS-302 3in1 Wireless charger, with touch button for Running water light, Input 9V/2A, 12V/2A, Output 15W/10W/7.5W/5W, Type c to USB-A cable length 1.2m, 137*103*140mm, 0.22Kg, White
Šifra artikla:
CNS-WCS302W
Dostava:
Iznos dostave 25kn
Može biti na Vašoj adresi u roku 1-3 radna dana
Dostupnost artikla:
Artikl je dobavljiv isti ili najkasnije drugi dan
Ostvarite 10% popusta na virmansko, gotovinsko i crypto plaćanje.
Popust se obračunava na kraju narudžbe.
Pregled vrsta plaćanja
Pregled vrsta plaćanja
Popust za gotovinu:
214,86 Kn
Gotovina, pouzeće, internet bankarstvo ili kriptovalute.
Kartice jednokratno:
226,79 Kn
Platite karticom jednokratno ili putem Paypala.
Obročna otplata:
238,73 Kn
Platite do 36 rata bez kamata i naknada.
Leanpay do 36 rata:
238,73 Kn
Leanpay omogućuje brzo i jednostavno plaćanje na rate preko interneta. Za plaćanje na rate u košarici odaberite Leanpay kao vrstu plaćanja. Informativni izračun ne uključuje troškove procjene rizika.
Više informacija
|
Provjerite svoj limit
Wireless charging station for gadgets supporting QI technology WS-302
The reliable wireless charger for those who value convenience and versatility! This charging station provides the best charging speed and is compatible with all devices supporting QI technology. The original shape allows you to simultaneously charge Apple Watch, iPhone, and Airpods with maximum convenience. Charging safety and speed are ensured by Novoton smart chipset. A sufficient charging distance of up to 7mm allows you to charge your smartphone without removing the case. The milky white color, which perfectly matches Apple products and other modern gadgets, turns the wireless charger into a real decoration of the space. The device is equipped with a wired charging module that is suitable for both Lightning and Micro USB. All you need is to turn the device on the appropriate side and attach it to the connector. A great solution to organize and optimize the storage of gadgets and reduce the need for different wires!
Features:
Designed for Apple products
Fast charge support
Charges 3 devices simultaneously
Compatible with Apple Watch / iPhone / Airpods
QI standard compliance
Smart chipset Novoton
Anti-slip rubber-coated base
Touch button for the backlight control
LED indicator and backlight
4 types of protection: OCP / OVP / OTP / FOD
Effective charging distance ≤7mm
Type-C cable 1.2 m included (max 3A)
Compatible with all wireless charging devices (QI)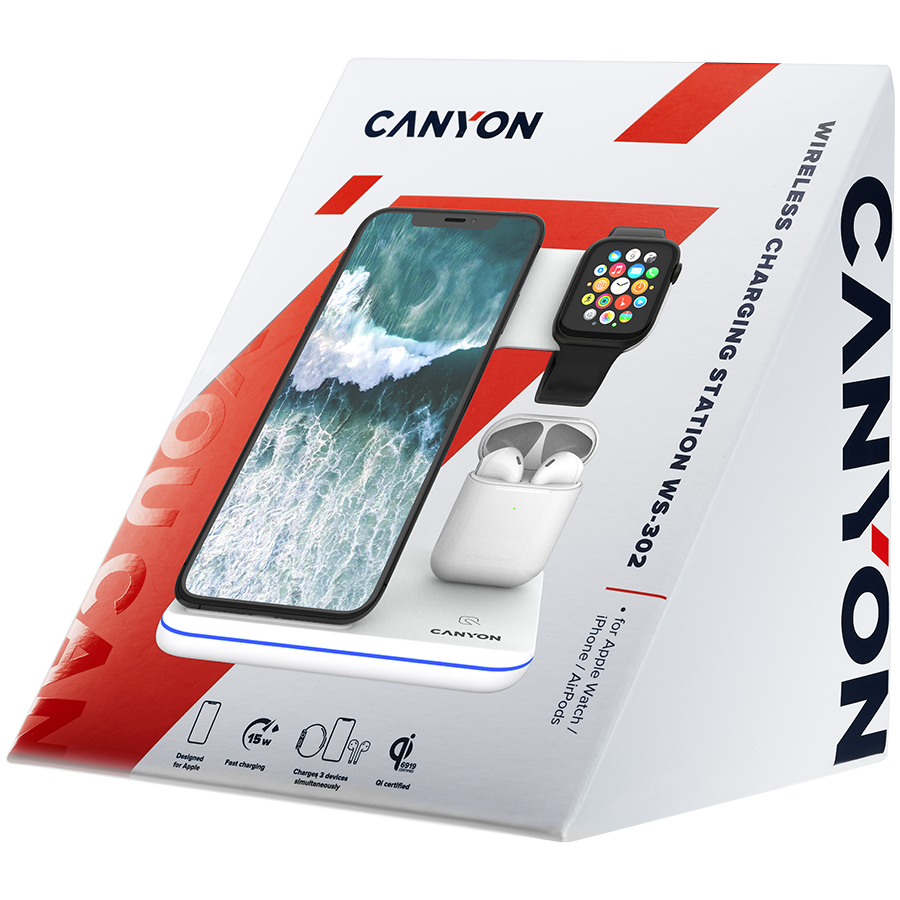 Marketing Model Name: WS-302
Commercial Name: Wireless charger Canyon WS-302 15W 3in1 White (CNS-WCS302W)
Power Device Type: Induction Charger
Power Device Location: External
Input Voltage: DC 12 V
Rated Input Current: 2 A
Input Power Connectors Quantity: 1
Input Power Connectors Type: USB Type C
Rated Current: 2 A
Maximum Output Power: 15 W
External Color: White
Cable Included: USB Type A to Type C Cable
Cable Length: 1.2 m
Included Accessories: Quick Start Guide
Depth (mm): 137 mm
Height (mm): 130 mm
Width (mm): 103 mm
Nominal Weight: 0.22 kg
Warranty Products Returnable: Yes
Warranty Term (month): 24 month(s)
Warranty validation Criteria: Serial Number
Pack Length (mm): 146 mm
Pack Width (mm): 125 mm
Pack Height (mm): 148 mm
Pack Weight Brutto (kg): 0.372 kg
Pack Weight Netto (kg): 0.292 kg
Pieces in pack: 1
Box Length (mm): 454 mm
Box Width (mm): 390 mm
Box Height (mm): 320 mm
Box Weight Brutto (kg): 13.39 kg
Retail Packaging Net Weight Carton: 0.08 kg
Retail Packaging Net Weight Plastic: 0 kg
Packs in Box: 36
Package Type: Retail
EAN Code: 5291485007614
Quantity of the boxes per pallet (by air)(pcs): 24
Quantity of the packs per pallet (by air)(pcs): 864
Dimensions of pallet (by air)(cm): 120x129.5x100 cm
Quantity of the boxes per pallet (by sea)(pcs): 36
Quantity of the packs per pallet (by sea)(pcs): 1296
Dimensions of pallet (by sea)(cm): 120x207x100 cm
Ostale informacije