CANYON Wireless Chocolate Standard Keyboard,105 keys, slim design with chocolate key caps,black,Size34.2*145.4*27.2mm,440g AD layout
Šifra artikla:
CNS-HKBW05-AD
Dostava:
Iznos dostave 25kn
Može biti na Vašoj adresi u roku 1-3 radna dana
Dostupnost artikla:
Artikl je dobavljiv isti ili najkasnije drugi dan
Ostvarite 10% popusta na virmansko, gotovinsko i crypto plaćanje.
Popust se obračunava na kraju narudžbe.
Pregled vrsta plaćanja
Pregled vrsta plaćanja
Popust za gotovinu:
136,17 Kn
Gotovina, pouzeće, internet bankarstvo ili kriptovalute.
Kartice jednokratno:
143,74 Kn
Platite karticom jednokratno ili putem Paypala.
Obročna otplata:
151,30 Kn
Platite do 36 rata bez kamata i naknada.
Wireless multimedia keyboard
KB-W50
This keyboard model allows you to work with a computer or laptop with maximum convenience. Multimedia keys let you control volume, video, music, and even the browser. The keyboard is easy to connect. The membrane structure provides quiet operation and pleasant tactile response. The connection could remain stable at a distance of up to 10 meters. Stable operation is ensured by one AAA battery; the energy-saving system ensures the durability of the charge. Ergonomic design and robustness make the keyboard your reliable companion for work and leisure.
Features:
12 multimedia functions
Connection: wireless 2.4GHz with nano-USB receiver
Number of Keys: 104
Key life: 10 million clicks
Operating range up to 10 m (open space)
Dimensions: 434.2x145.4x27.2 mm
1 AAA battery included
Compatible with Windows / Mac OS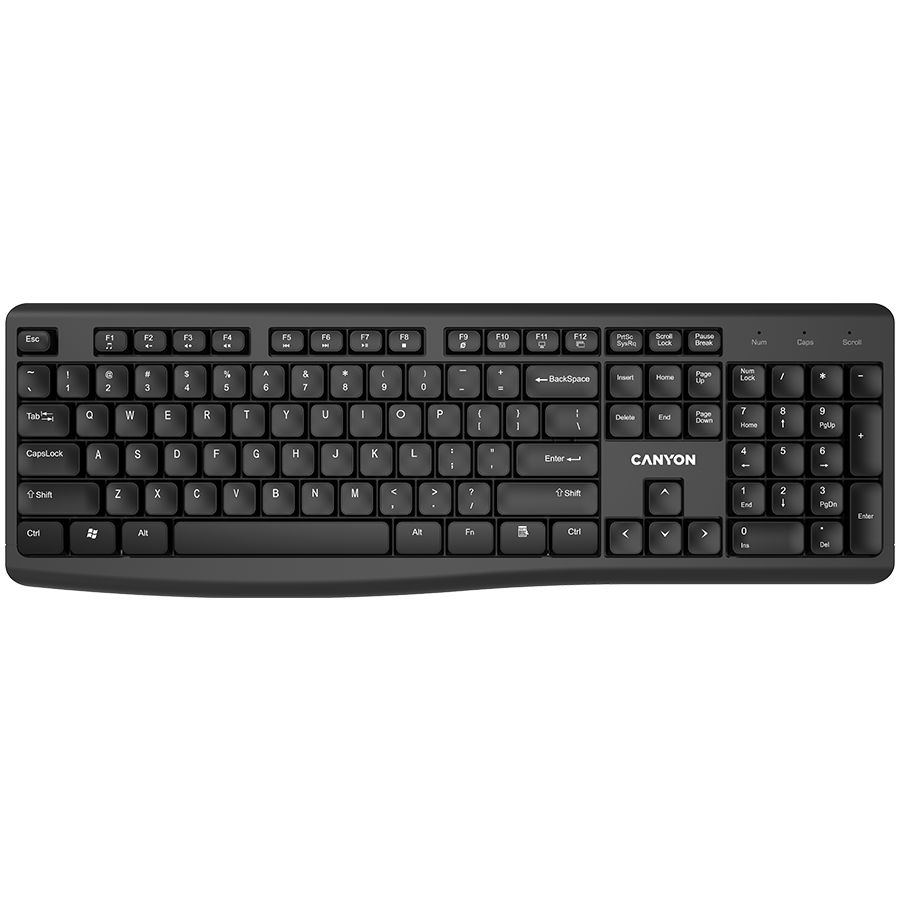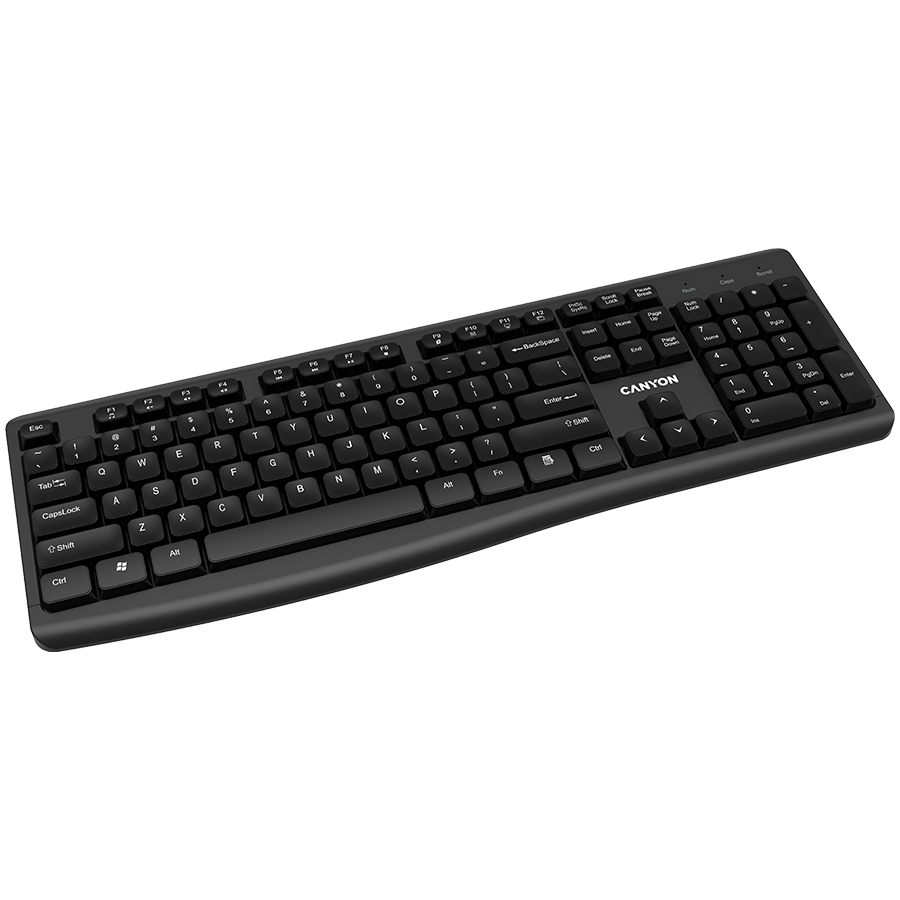 Marketing Model Name: KB-W50
Commercial Name: Keyboard Canyon HKB-W50 EN/AD Multimedia Wireless Black (CNS-HKBW05-AD)
Device Location: External
Connectivity Technology: Wireless
Number of Keys: 104
Keyboard Features: Slim Chocolate Keycap Design
Platform Compability: PC
Battery Technology: Alkaline
Supports Battery Type Classification: AAA
Battery Included Quantity: 1
Battery Required Quantity: 1
Localization: Adriatic
External Color: Black
Included Accessories: User Guide
Compliant Devices: Mac
Width (mm): 145.4 mm
Height (mm): 27.2 mm
Depth (mm): 434.2 mm
Nominal Weight: 0.44 kg
Warranty Products Returnable: Yes
Warranty Term (month): 24 month(s)
Warranty validation Criteria: Serial Number
Pack Length (mm): 461 mm
Pack Width (mm): 31.5 mm
Pack Height (mm): 154 mm
Pack Weight Brutto (kg): 0.429 kg
Pack Weight Netto (kg): 0.419 kg
Pieces in pack: 1
Box Length (mm): 478 mm
Box Width (mm): 345 mm
Box Height (mm): 328 mm
Box Weight Brutto (kg): 9.08 kg
Retail Packaging Net Weight Carton: 0.01 kg
Retail Packaging Net Weight Plastic: 0 kg
Packs in Box: 20
Package Type: Retail
EAN Code: 5291485007171
Quantity of the boxes per pallet (by air)(pcs): 28
Quantity of the packs per pallet (by air)(pcs): 560
Dimensions of pallet (by air)(cm): 103.5x940x146.2 cm
Quantity of the boxes per pallet (by sea)(pcs): 42
Quantity of the packs per pallet (by sea)(pcs): 840
Dimensions of pallet (by sea)(cm): 103.5x940x1983 cm
Ostale informacije