CANYON Wired multimedia gaming keyboard with lighting effect, 20pcs rainbow LED & 19pcs RGB light, Numbers 104keys, EN double injection layout, cable length 1.8M, 446*160*40mm, 0.98kg, color Dark grey
Šifra artikla:
CND-SKB8-US
Dostava:
Iznos dostave 19kn
Može biti na Vašoj adresi u roku 1-3 radna dana
Dostupnost artikla:
Artikl je dobavljiv isti ili najkasnije drugi dan
Ostvarite 10% popusta na virmansko i gotovinsko plaćanje
obračunava se na kraju narudžbe -
303,83 Kn
Obročno plaćanje:
3 * 112,53 Kn
6 * 56,27 Kn
12 * 28,13 Kn
Interceptor Gaming Keyboard GK-8
This professional-grade gaming keyboard is a perfect companion for your victories! Backlighting with different color variations will enhance your gaming environment and serve as a cool desktop decoration - each key is backlighted individually! Canyon red mechanical switches have a pleasant tactile response and efficient operation. The buttons can hold up to 60 million strokes, and the Double injection keycaps are indelible. The anti-static metal surface increases the strength and durability of the device. Below the main block of keys, an additional set of buttons is located. Using these 7 multimedia buttons with a volume wheel, you can control multimedia player and keyboard backlighting. The keyboard has a compact extension for wrist supports. You can customize the keyboard functions using Canyon software.
Features:
111 buttons
104 Canyon red mechanical switches
7 multimedia buttons
Transparent shaft of mechanical switches
Customization software
Multifunctional control panel
Double Injection keycaps
60 million strokes per button
Anti-ghosting function
11 backlight modes
21 gaming backlight modes
"WIN" / "START" button lock
Key route 4.0 mm
NKRO anti-ghosting technology
Dual-core IC chip
Macro functions
Anti-static metal panel
Trigger actuation 2 mm with force 60g
Braided cable with ferrite ring
System requirements: WIN 7/8/10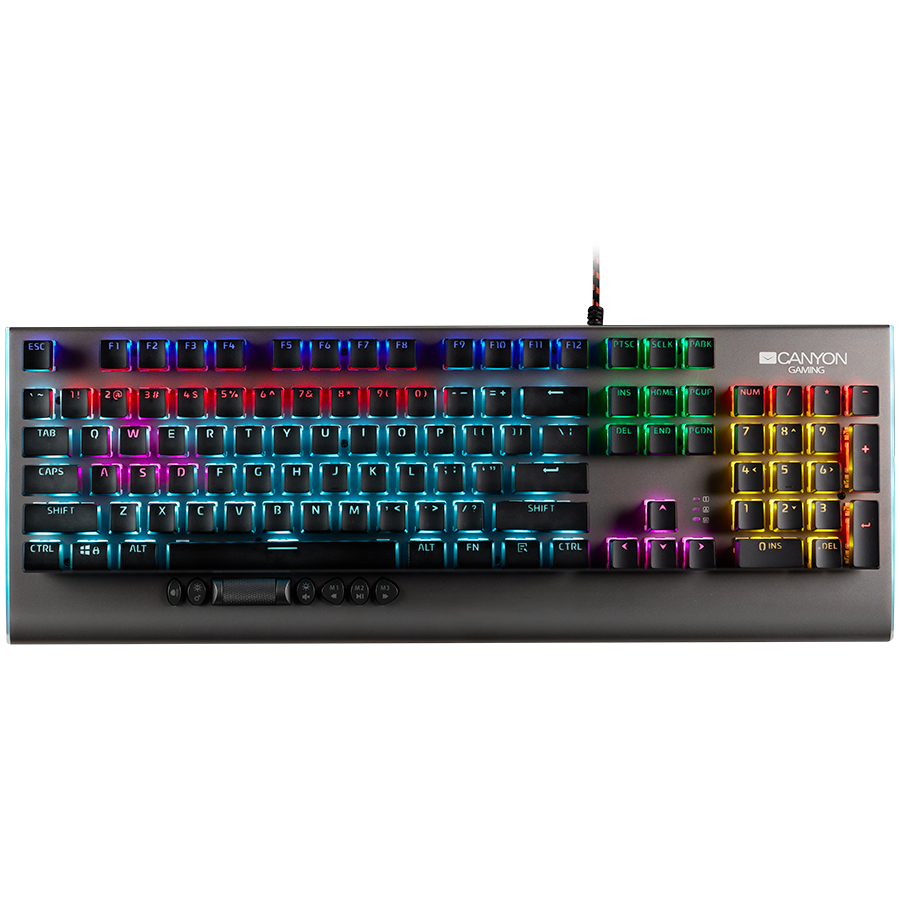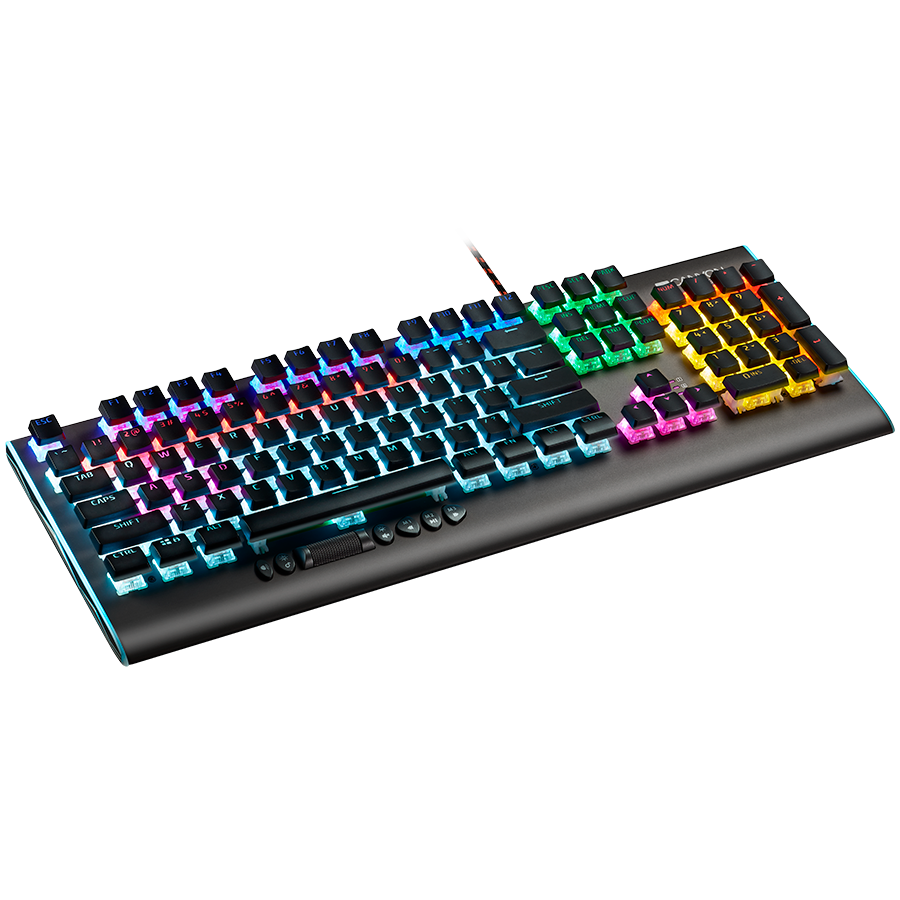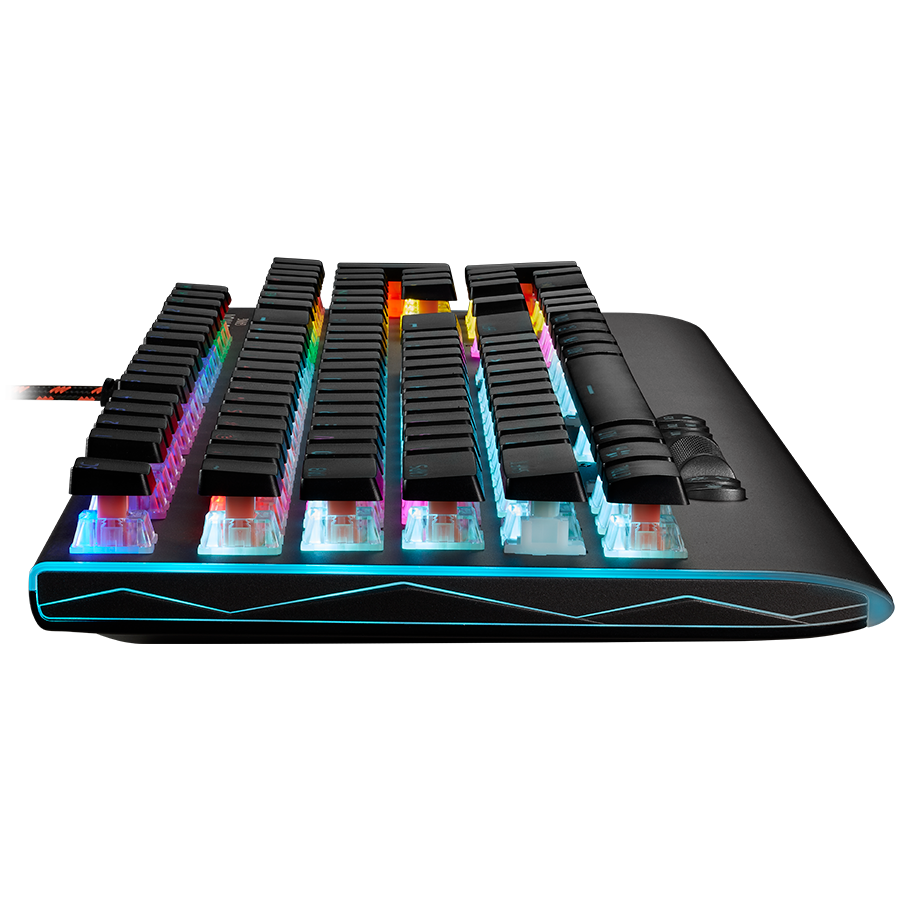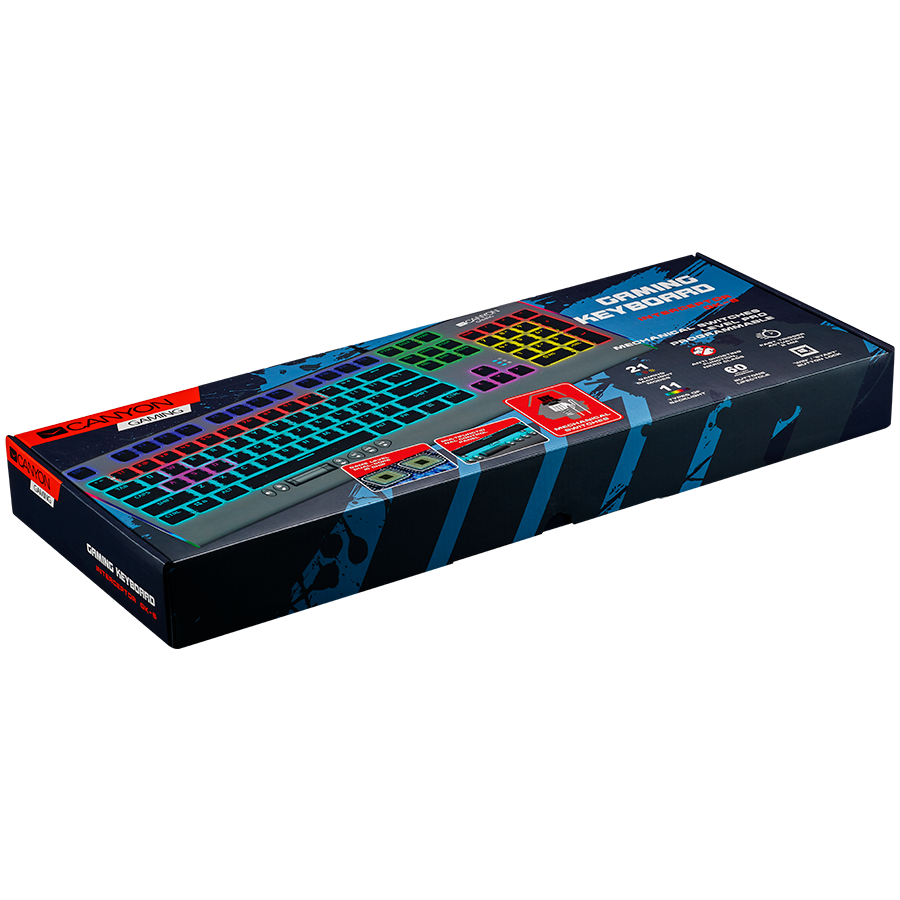 Device Location: External
Connectivity Technology: Wired
Interface: USB
Number of Keys: 104
Number of Hot Keys: 17
Key/Button Functions: Programmable
Keyboard Layout: QWERTY
Keys Type: Mechanical
Keyboard Features: LED Backlight RGB Backlighting
Requires Peripheral Devices: USB port
Localization: English Russian
External Color: Matte Dark Gray
Width (mm): 447 mm
Height (mm): 160 mm
Depth (mm): 40 mm
Warranty Products Returnable: Yes
Warranty Term (month): 24 month(s)
Warranty validation Criteria: Serial Number
Pack Length (mm): 490 mm
Pack Width (mm): 50 mm
Pack Height (mm): 195 mm
Pack Weight Brutto (kg): 1.11 kg
Pack Weight Netto (kg): 0.9 kg
Pieces in pack: 1
Box Length (mm): 505 mm
Box Width (mm): 275 mm
Box Height (mm): 410 mm
Box Weight Brutto (kg): 11.5 kg
Retail Packaging Net Weight Carton: 0.21 kg
Retail Packaging Net Weight Plastic: 0 kg
Packs in Box: 10
Packs per Pallet: 350
Package Type: Retail
EAN Code: 5291485004897
Quantity of the boxes per pallet (by air)(pcs): 240
Dimensions of pallet (by air)(cm): 1126x1000x1380 mm
Quantity of the boxes per pallet (by sea)(pcs): 400
Dimensions of pallet (by sea)(cm): 1126x1000x2210 mm
Ostale informacije