CANYON UC-4 Type C USB 3.0 standard cable, Power & Data output, 5V 1A 5W, OD 4.5mm, PVC Jacket, 1.5m, black, 0.039kg
Šifra artikla:
CNE-USBC4B
Dostava:
Iznos dostave 25kn
Može biti na Vašoj adresi u roku 1-3 radna dana
Dostupnost artikla:
Artikl je dobavljiv isti ili najkasnije drugi dan
Ostvarite 10% popusta na virmansko, gotovinsko i crypto plaćanje.
Popust se obračunava na kraju narudžbe.
Pregled vrsta plaćanja
Pregled vrsta plaćanja
Popust za gotovinu:
68,99 Kn
Gotovina, pouzeće, internet bankarstvo ili kriptovalute.
Kartice jednokratno:
72,82 Kn
Platite karticom jednokratno ili putem Paypala.
Obročna otplata:
76,65 Kn
Platite do 36 rata bez kamata i naknada.
Leanpay do 36 rata:
76,65 Kn
Leanpay omogućuje brzo i jednostavno plaćanje na rate preko interneta. Za plaćanje na rate u košarici odaberite Leanpay kao vrstu plaćanja. Informativni izračun ne uključuje troškove procjene rizika.
Više informacija
|
Provjerite svoj limit
Charge&Data Cable USB Type C
Charge your phone and transmit data between your devices using classic black or white Canyon USB Type C cable. Each one of these basic Type C cables has firm polyvinyl chloride jacket and meets all needed requirements for flawless and stable connection.
Features:
• Flexible 4.5mm wire in firm PVC Jacket
• USB Type C - USB 3.0 compatibility
• 1.5 meter long
• Capacity: 3A, 15W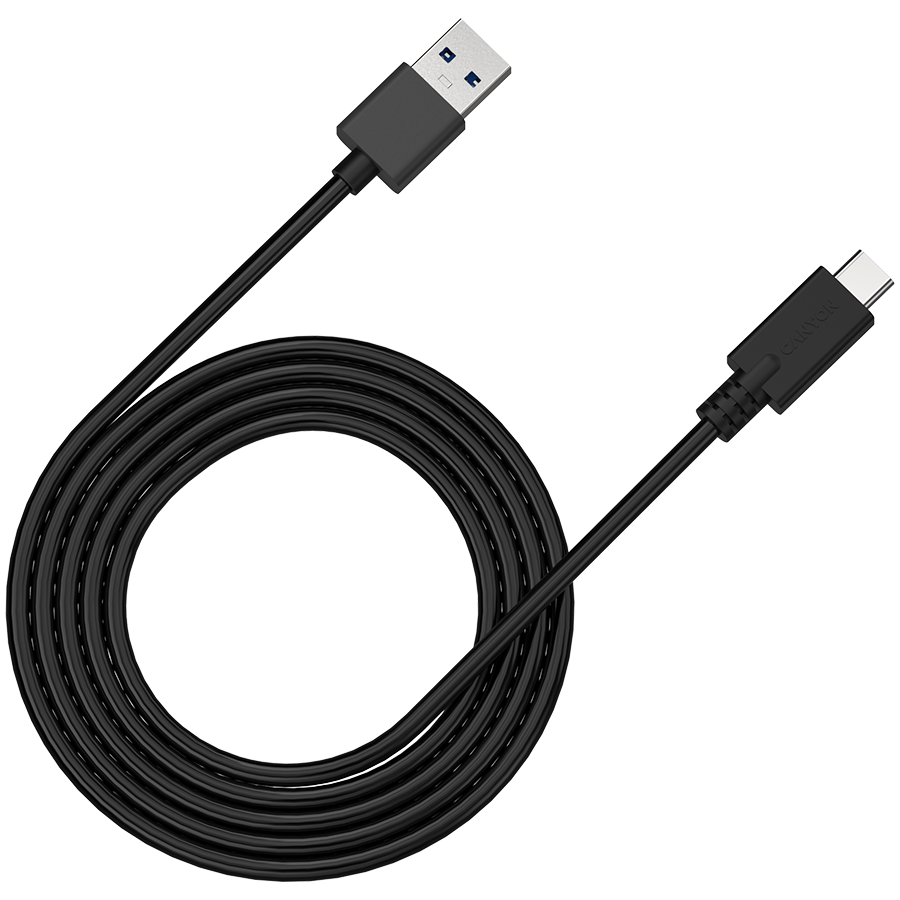 Marketing Model Name: UC-4
Commercial Name: Cable Canyon UC-4 USB-C 15W 1.5m Black (CNE-USBC4B)
Cable Functionality: USB Cable
Cable Compliant Standards: USB 3.0
Power & Data Output: 5V/3A, 15W
Left Connector: USB Type C (Male)
Right Connector: USB 3.0 Type A (Male)
External Color: Black
Cable Length: 1.5 m
Warranty Products Returnable: Yes
Warranty Term (month): 24 month(s)
Warranty validation Criteria: Serial Number
Pack Length (mm): 81 mm
Pack Width (mm): 30 mm
Pack Height (mm): 127 mm
Pack Weight Brutto (kg): 0.084 kg
Pack Weight Netto (kg): 0.059 kg
Pieces in pack: 1
Box Length (mm): 500 mm
Box Width (mm): 300 mm
Box Height (mm): 270 mm
Box Weight Brutto (kg): 8.06 kg
Retail Packaging Net Weight Carton: 0.025 kg
Retail Packaging Net Weight Plastic: 0 kg
Packs in Box: 90
Package Type: Retail
EAN Code: 5291485004019
Quantity of the boxes per pallet (by air)(pcs): 40
Quantity of the packs per pallet (by air)(pcs): 3600
Dimensions of pallet (by air)(cm): 1200x1000x1475 mm
Quantity of the boxes per pallet (by sea)(pcs): 56
Quantity of the packs per pallet (by sea)(pcs): 5040
Dimensions of pallet (by sea)(cm): 1200x1000x2005 mm
Ostale informacije