Canyon TWS-5 Bluetooth headset, with microphone, BT V5.3 JL 6983D4, Frequence Response:20Hz-20kHz, battery EarBud 40mAh*2+Charging Case 500mAh, type-C cable length 0.24m, size: 58.5*52.91*25.5mm, 0.03
Dostava:
Iznos dostave 3,50 EUR
Može biti na Vašoj adresi u roku 1-3 radna dana
Dostupnost artikla:
Artikl je dobavljiv isti ili najkasnije drugi dan
Ostvarite 10% popusta na virmansko, gotovinsko i crypto plaćanje.
Popust se obračunava na kraju narudžbe.
Pregled vrsta plaćanja
Pregled vrsta plaćanja
Popust za gotovinu:
18,00 EUR
Gotovina, pouzeće, internet bankarstvo ili kriptovalute.
Kartice jednokratno:
19,00 EUR
Platite karticom jednokratno ili putem Paypala.
Obročna otplata:
20,00 EUR
Platite do 36 rata bez kamata i naknada.
Leanpay do 36 rata:
20,00 EUR
Leanpay omogućuje brzo i jednostavno plaćanje na rate preko interneta. Za plaćanje na rate u košarici odaberite Leanpay kao vrstu plaćanja. Informativni izračun ne uključuje troškove procjene rizika.
Više informacija
|
Provjerite svoj limit
True wireless stereo headset TWS-5
These wireless headphones are designed for those who are constantly on the move and love to listen to music in high quality playback. The latest version of Bluetooth 5.3 ensures stable pairing both with the audio source and between the right and left earbuds. In addition, thanks to this protocol, the operating time of the headset has been increased up to 7.5 hours. Clear and surround stereo sound will allow you to enjoy your favorite music in high quality. The TWS function allows you to pair it with a second BT TWS speaker for immersive stereo sound experience. The headset allows you to receive phone calls and use voice assistant without touching your smartphone. To charge the headphone box, a USB Type-C cable is used, the same one used in most modern smartphones. The comfortable design of the ear buds with silicone ear tips ensures a snug fit in the ear. Additional ear cushions in different sizes allow you to choose the right ones for you, ensuring the most comfortable fit. Reliable audio gadget for those who love an active lifestyle!
Features:
Energy saving technology BT 5.3
Touch control
Automatic pairing
38 hours of work including charging box
2 hours of charging time for the box
Battery capacity 40 mAh (earphone), 500 mAh (charging box)
Charging input: USB Type-C
Possibility of using one or both earphones
3 pairs of vacuum earbuds of different sizes included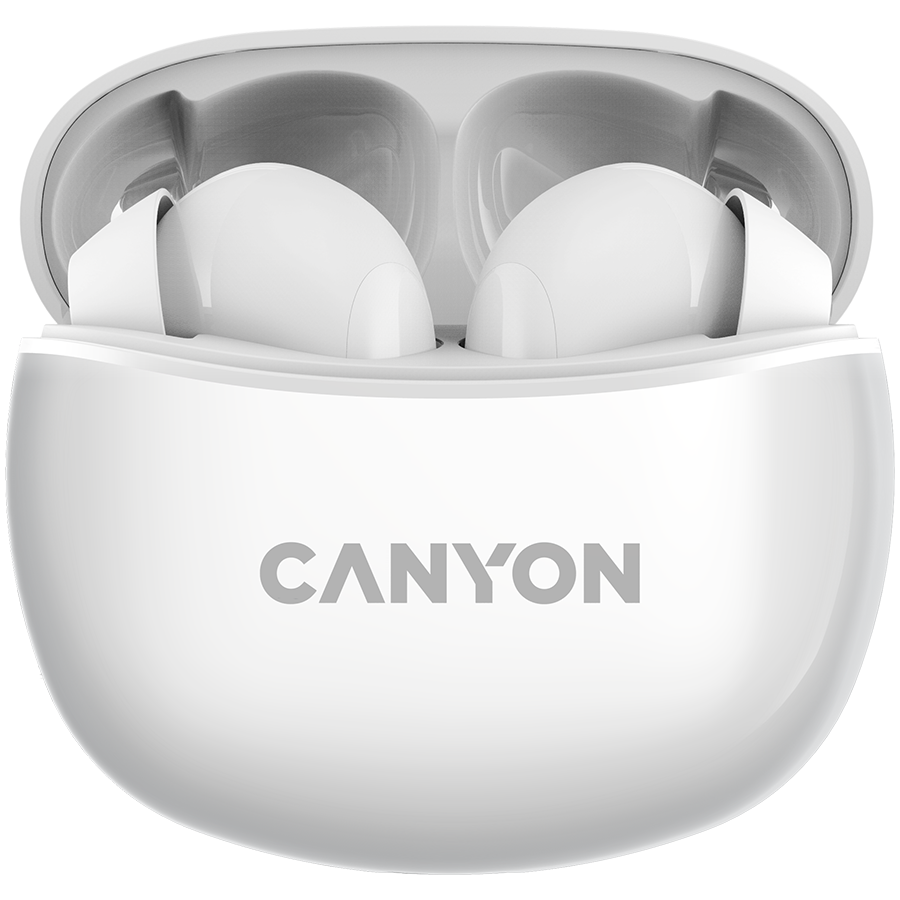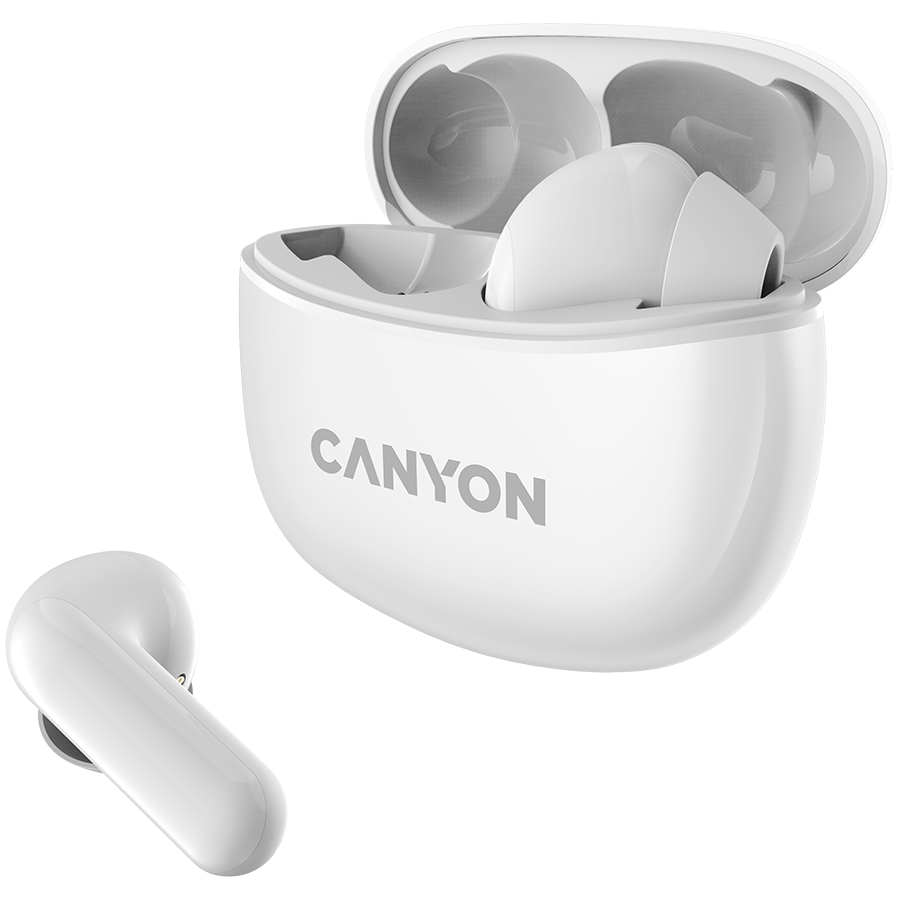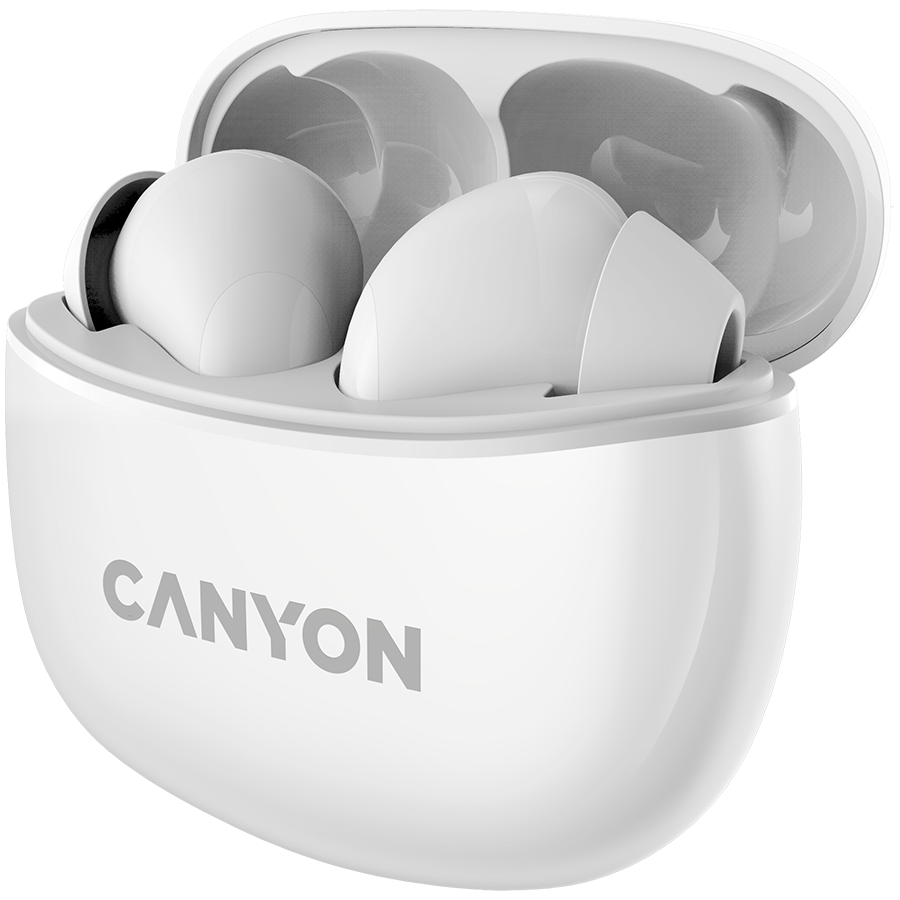 Marketing Model Name: TWS-5
Commercial Name: Headset Canyon TWS-5 White (CNS-TWS5W)
Audio System Type: Headset
Destination: Cellular Phone PC Tablet
Connectivity Technology: Wireless
Wireless Technology: Bluetooth
Form Factor: Ear-bud
Mount Type: In-Ear
Audio Output Mode: Stereo
Headphones Technology: Dynamic
Frequency Response: 20Hz-20kHz
System Components: 2 Speakers
Microphone Form Factor: Built-in
Networking Type: Bluetooth Adapter
Networking Form Factor: Integrated
Networking Compliant Standards: Bluetooth 5.3
Power Device Location: External
Battery Current Capacity: 40 mAh
External Color: White
Cable Included: USB Type C Cable
Depth (mm): 25.5 mm
Height (mm): 52.91 mm
Width (mm): 58.5 mm
Warranty Products Returnable: Yes
Warranty Term (month): 24 month(s)
Warranty validation Criteria: Serial Number
Pack Length (mm): 84 mm
Pack Width (mm): 33 mm
Pack Height (mm): 118 mm
Pack Weight Brutto (kg): 0.107 kg
Pack Weight Netto (kg): 0.075 kg
Pieces in pack: 1
Box Length (mm): 493 mm
Box Width (mm): 270 mm
Box Height (mm): 192 mm
Box Weight Brutto (kg): 6.692 kg
Retail Packaging Net Weight Carton: 0.032 kg
Retail Packaging Net Weight Plastic: 0 kg
Packs in Box: 56
Package Type: Retail
EAN Code: 5291485009120
Quantity of the boxes per pallet (by air)(pcs): 48
Quantity of the packs per pallet (by air)(pcs): 2688
Dimensions of pallet (by air)(cm): 1095x987x1327 mm
Quantity of the boxes per pallet (by sea)(pcs): 72
Quantity of the packs per pallet (by sea)(pcs): 4032
Dimensions of pallet (by sea)(cm): 1020x1000x2115 mm
Ostale informacije