CANYON PB-2001, Power bank 20000mAh Li-poly battery, Input 5V/2A , Output 5V/2.1A(Max), 144*69*28.5mm, 0.440Kg, Black
Šifra artikla:
CNE-CPB2001B
Dostava:
Iznos dostave 3,50 EUR
Može biti na Vašoj adresi u roku 1-3 radna dana
Dostupnost artikla:
Artikl je dobavljiv isti ili najkasnije drugi dan
Ostvarite 10% popusta na virmansko, gotovinsko i crypto plaćanje.
Popust se obračunava na kraju narudžbe.
Pregled vrsta plaćanja
Pregled vrsta plaćanja
Popust za gotovinu:
26,37 EUR
Gotovina, pouzeće, internet bankarstvo ili kriptovalute.
Kartice jednokratno:
27,84 EUR
Platite karticom jednokratno ili putem Paypala.
Obročna otplata:
29,30 EUR
Platite do 36 rata bez kamata i naknada.
Leanpay do 36 rata:
29,30 EUR
Leanpay omogućuje brzo i jednostavno plaćanje na rate preko interneta. Za plaćanje na rate u košarici odaberite Leanpay kao vrstu plaćanja. Informativni izračun ne uključuje troškove procjene rizika.
Više informacija
|
Provjerite svoj limit
Power bank
PB-2001
Every gadget user has faced this problem when a smartphone or headphones battery runs out amidst the most interesting place of a series, a game, or a heated chat discussion! Canyon released the PB-2001 power bank model to help you use a mobile device all day long without worrying about a dead battery. It is notable for its high capacity and fairly compact housing with 2 charging inputs – Micro-USB and Type-C. The battery can charge 2 devices simultaneously via USB-A outputs. In addition, the power bank has six types of protection and is dressed in stylish dark graphite or white case. PB-2001 takes up the least possible amount of space in your bag while performing at maximum!
Features:
Compact case
Large capacity: 20000 mAh
Two inputs: Micro-USB, USB Type-C
2 outputs allow charging 2 devices simultaneously: 2 x USB Type-A
6 types of protection
LED indicator showing charging capacity
Input: DC 5V / 2 A (Micro-USB / Type-C)
Output: 5V / max 2.1 A (2xUSB-A)
USB Type-C cable included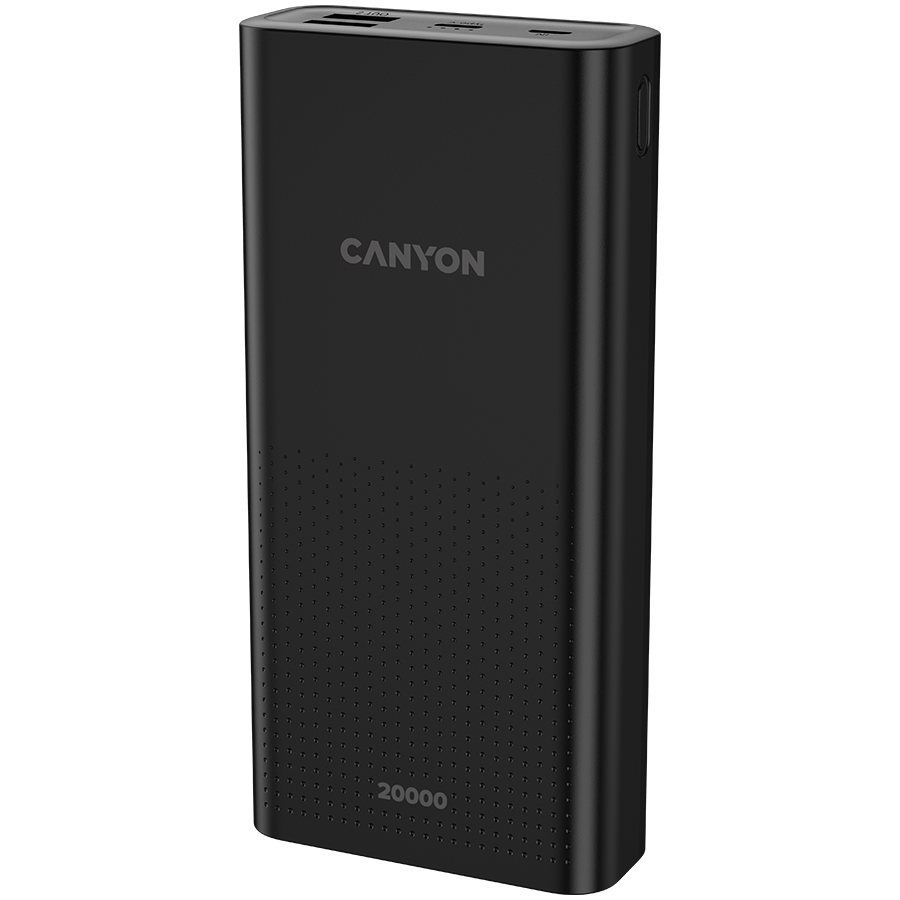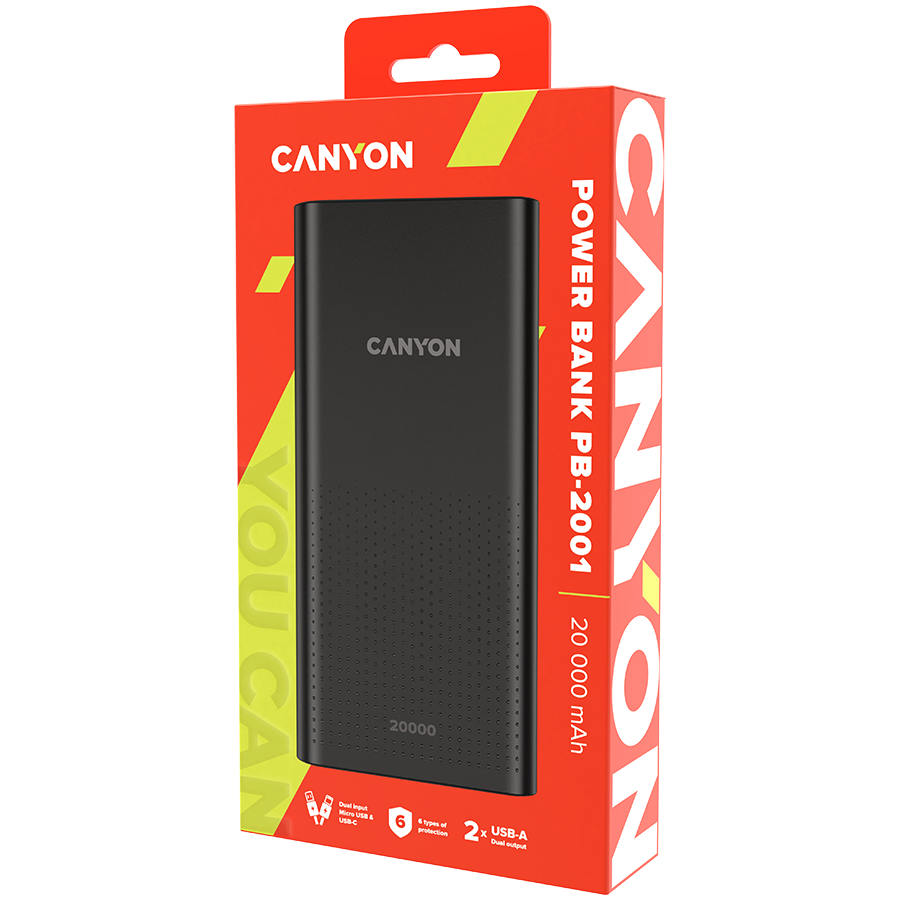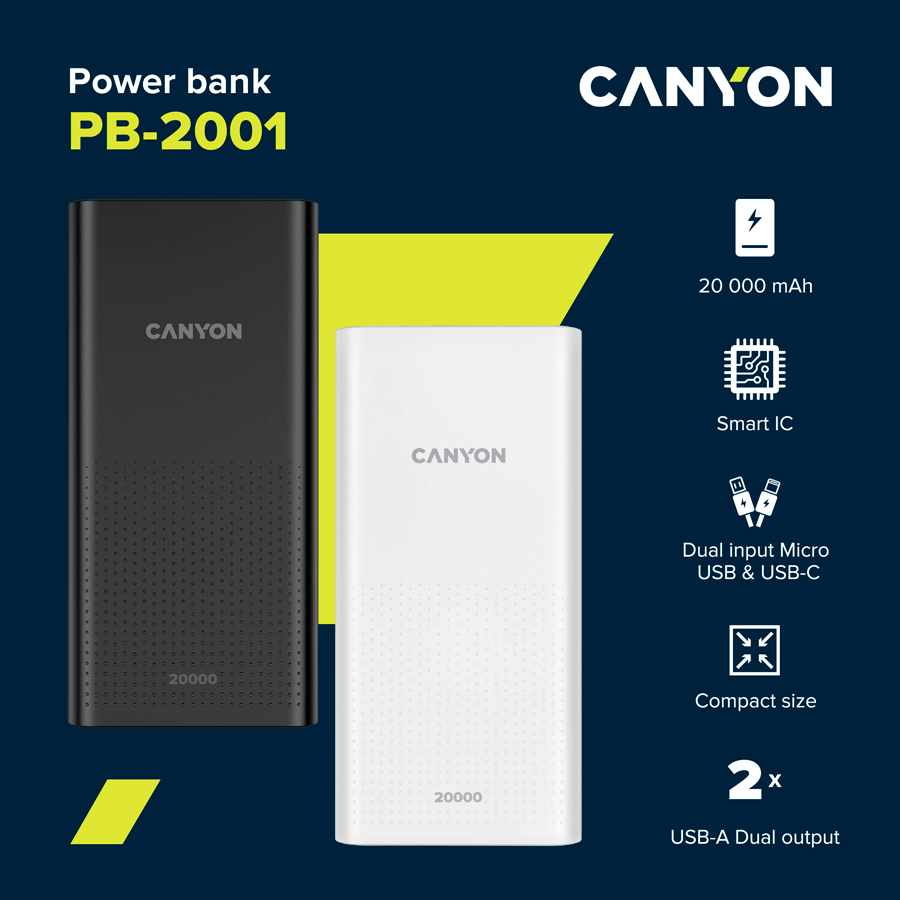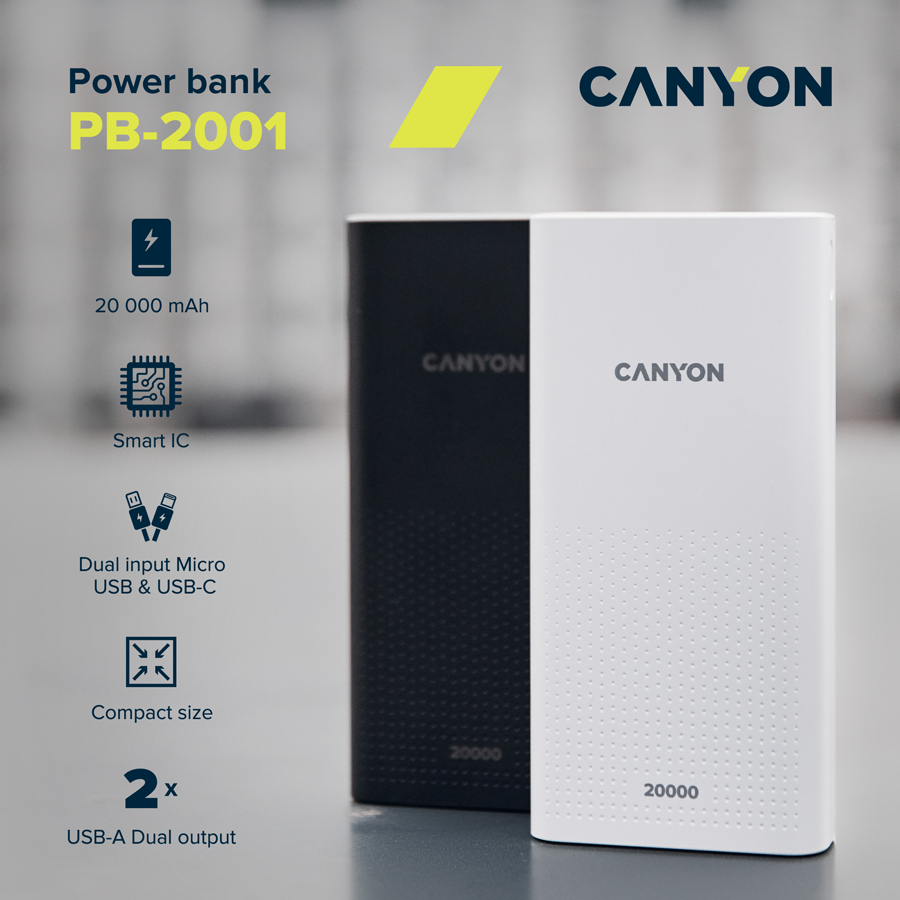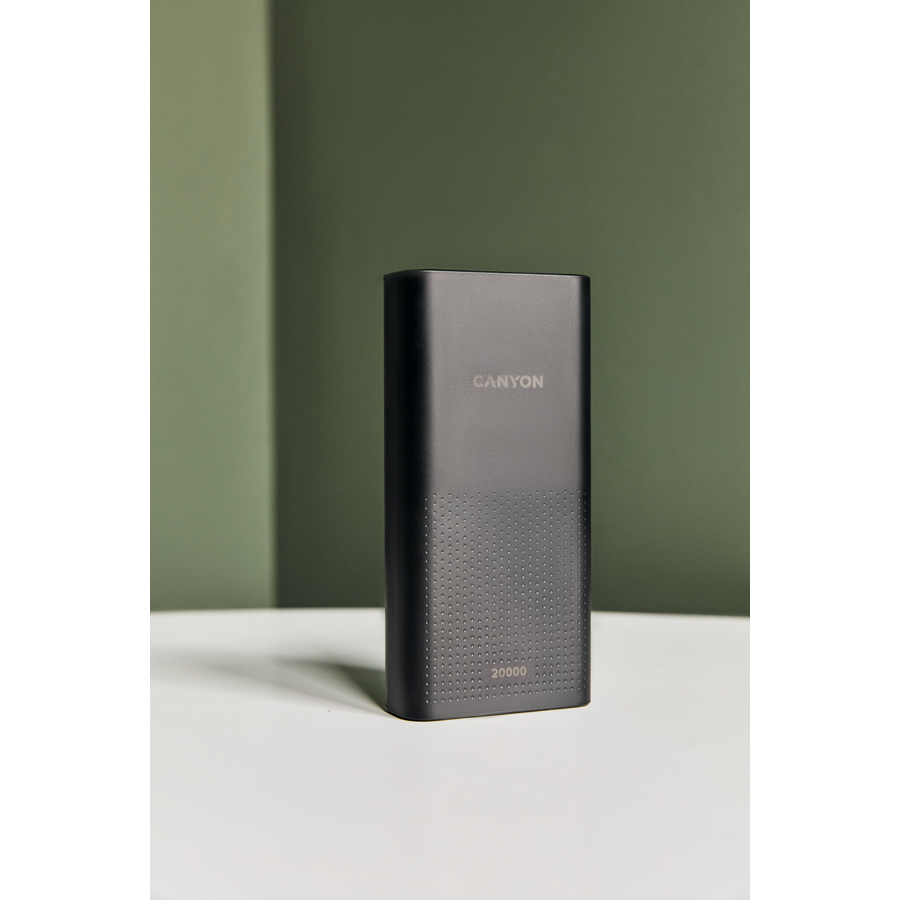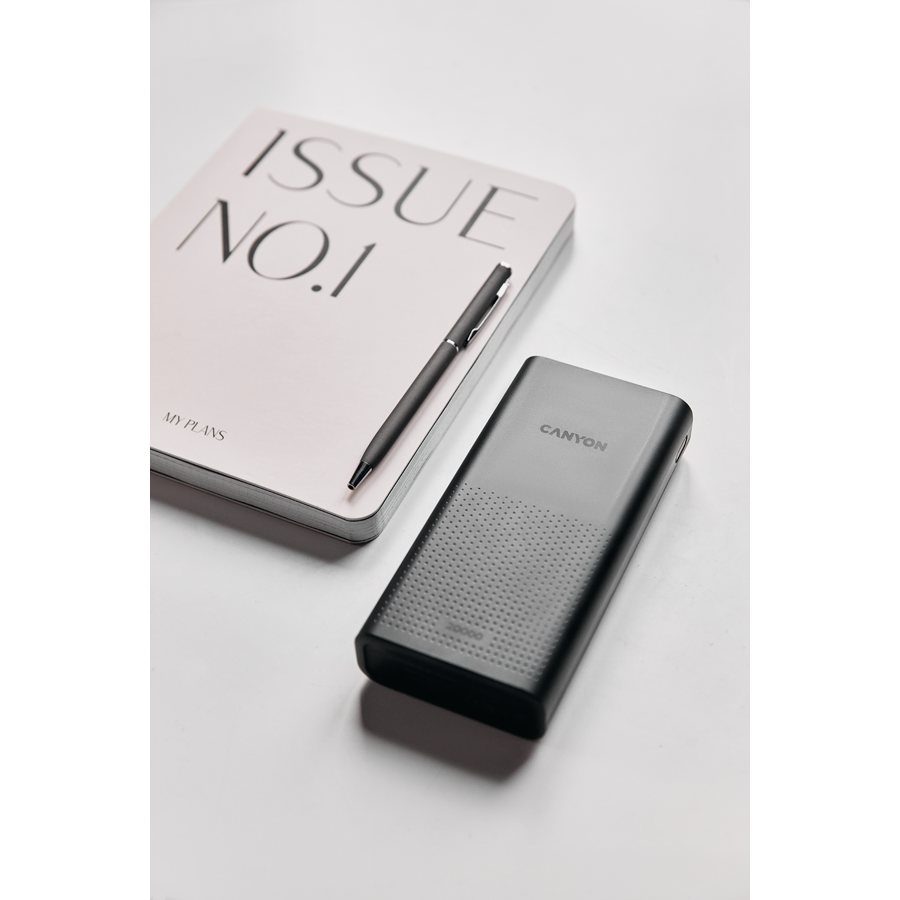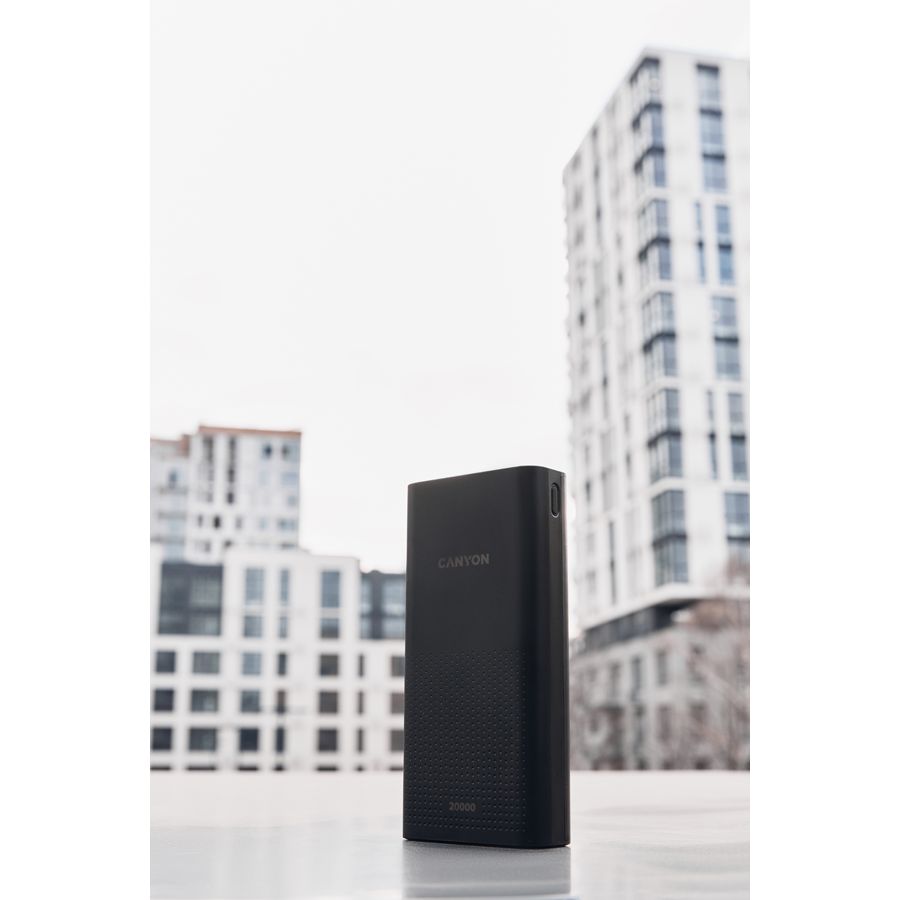 Marketing Model Name: PB-2001
Commercial Name: Power bank Canyon PB-2001 20000 mAh Black (CNE-CPB2001B)
Battery Current Capacity: 20000 mAh
Connectors Quantity: 4
External Color: Black
Maximum Input Current: 2 A
Maximum Input Voltage: 5 V
Output Voltage: DC 5 V
Maximum Output Current: 2.1 A
Width (mm): 69 mm
Height (mm): 28.5 mm
Depth (mm): 144 mm
Nominal Weight: 0.44 kg
Warranty Products Returnable: Yes
Warranty validation Criteria: Serial Number
Warranty Term (month): 24 month(s)
Pack Length (mm): 100 mm
Pack Width (mm): 34 mm
Pack Height (mm): 180 mm
Pack Weight Brutto (kg): 0.52 kg
Pack Weight Netto (kg): 0.047 kg
Pieces in pack: 1
Box Length (mm): 270 mm
Box Width (mm): 200 mm
Box Height (mm): 230 mm
Box Weight Brutto (kg): 7.91 kg
Retail Packaging Net Weight Carton: 0.052 kg
Retail Packaging Net Weight Plastic: 0 kg
Packs in Box: 14
Package Type: Retail
EAN Code: 5291485008307
Ostale informacije