CANYON NS02, Cooling stand single fan with 2x2.0 USB hub, support up to 10"-15.6" laptop, ABS plastic and iron, Fans dimension:125*125*15mm(1pc), DC 5V, fan speed: 800-1000RPM, size:340*265*30mm, 406g
Dostava:
Iznos dostave 3,50 EUR
Može biti na Vašoj adresi u roku 1-3 radna dana
Dostupnost artikla:
Artikl je dobavljiv isti ili najkasnije drugi dan
Ostvarite 10% popusta na virmansko, gotovinsko i crypto plaćanje.
Popust se obračunava na kraju narudžbe.
Pregled vrsta plaćanja
Pregled vrsta plaćanja
Popust za gotovinu:
13,73 EUR
Gotovina, pouzeće, internet bankarstvo ili kriptovalute.
Kartice jednokratno:
14,49 EUR
Platite karticom jednokratno ili putem Paypala.
Obročna otplata:
15,25 EUR
Platite do 36 rata bez kamata i naknada.
Leanpay do 36 rata:
15,25 EUR
Leanpay omogućuje brzo i jednostavno plaćanje na rate preko interneta. Za plaćanje na rate u košarici odaberite Leanpay kao vrstu plaćanja. Informativni izračun ne uključuje troškove procjene rizika.
Više informacija
|
Provjerite svoj limit
Cooling stand for laptops up to 15.6
NS02
This cooling stand will help keep your laptop running more stable and safe in hot weather or when performing demanding tasks. The stand is suitable for a variety of laptops ranging from 10″ to 15″. A single high-speed fan with a large diameter will cool even a large laptop without creating unnecessary noise. The stand is energy efficient and features stylish LED lighting for working in the dark.
Features:
Fits laptops 10" - 15.6"
Improved heat dissipation
Secured system stability
Low power consumption
Longer laptops battery life
2xUSB 2.0 powered
Dimensions 340 x 265 x 30 mm
High-speed fan 1x1200 ± 10% RPM
Fan size 125 x 125 x 15 mm
Quiet work
LED backlight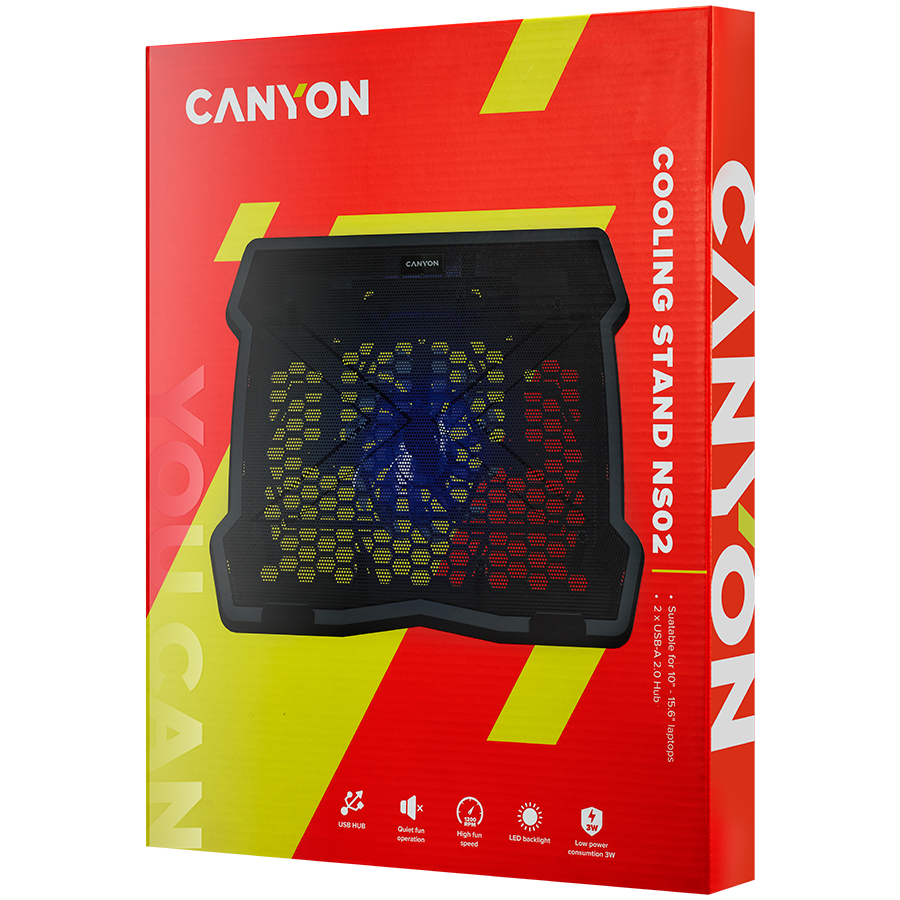 Commercial Name: NS02Stand Canyon NS02 1Fan 2USB LED Black (CNE-HNS02)
External Color: Black
Cooling System Type: Cooling Stand for Notebook
Rated Speed Max: 1000 RPM
Rated Speed Min: 800 RPM
Rated Voltage: 5 V
Built-in Devices: USB Hub
Parent Products: Laptop up to 15.6 "
Fans Quantity: 1 x 125*125*15
Width (mm): 30 mm
Height (mm): 265 mm
Depth (mm): 340 mm
Nominal Weight: 0.406 kg
Warranty Products Returnable: Yes
Warranty Term (month): 24 month(s)
Warranty validation Criteria: Serial Number
Pack Length (mm): 272 mm
Pack Width (mm): 37 mm
Pack Height (mm): 343 mm
Pack Weight Brutto (kg): 0.55 kg
Pack Weight Netto (kg): 0.41 kg
Pieces in pack: 1
Box Length (mm): 563 mm
Box Width (mm): 505 mm
Box Height (mm): 375 mm
Box Weight Brutto (kg): 14.3 kg
Retail Packaging Net Weight Carton: 0.123 kg
Retail Packaging Net Weight Plastic: 0.017 kg
Packs in Box: 26
Package Type: Retail
EAN Code: 5291485007652
Ostale informacije