CANYON MW-15, 2.4GHz Wireless Optical Mouse with 4 buttons, DPI 800/1200/1600, Pearl white, 115*77*38mm, 0.064kg
Šifra artikla:
CNE-CMSW15PW
Dostava:
Iznos dostave 3,50 EUR
Može biti na Vašoj adresi u roku 1-3 radna dana
Dostupnost artikla:
Artikl je dobavljiv isti ili najkasnije drugi dan
Ostvarite 10% popusta na virmansko, gotovinsko i crypto plaćanje.
Popust se obračunava na kraju narudžbe.
Pregled vrsta plaćanja
Pregled vrsta plaćanja
Popust za gotovinu:
11,14 EUR
Gotovina, pouzeće, internet bankarstvo ili kriptovalute.
Kartice jednokratno:
11,76 EUR
Platite karticom jednokratno ili putem Paypala.
Obročna otplata:
12,38 EUR
Platite do 36 rata bez kamata i naknada.
Leanpay do 36 rata:
12,38 EUR
Leanpay omogućuje brzo i jednostavno plaćanje na rate preko interneta. Za plaćanje na rate u košarici odaberite Leanpay kao vrstu plaćanja. Informativni izračun ne uključuje troškove procjene rizika.
Više informacija
|
Provjerite svoj limit
Convenient Wireless Mouse with Pixart Sensor
MW-15
This mouse was designed to provide optimal finger support for your right hand during daily work. This stylish and convenient gadget will serve as a nice decoration of the workspace. A graceful shape, pearlescent sheen, and original side trim complement the excellent tactile properties of the durable mouse cover. The sensor created by Pixart, arguably the best manufacturer globally, allows the mouse to work well on any surface. The 2.4 GHz USB receiver ensures uninterrupted communication with the computer. 4 durable buttons can withstand 3 million clicks. Choose the color that matches the design of your desktop, and enjoy this convenient and high-quality gadget.
Features:
2.4 GHz wireless USB connection
Optical sensor Pixart 3065
4 buttons with 3 million clicks lifespan
3 DPI levels 800/1200/1600
Wear-resistant coating with a pearlescent sheen
2 AAA batteries included
Dimensions: 115x77x38mm
Weight: 0.64g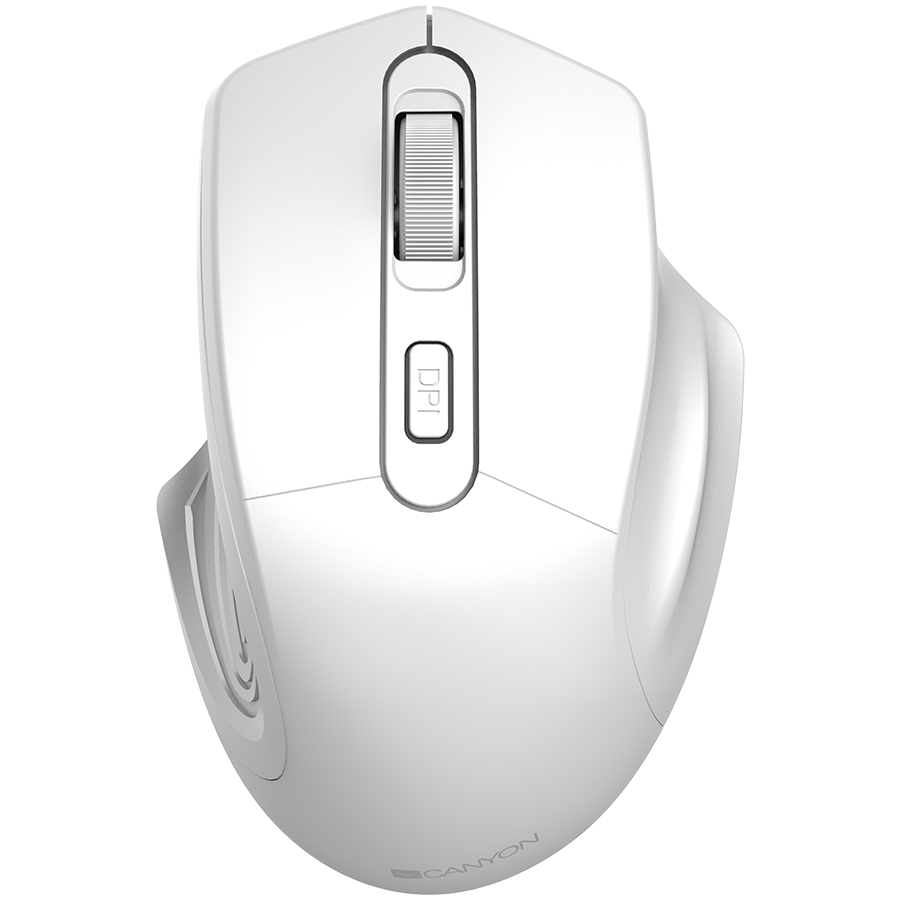 Marketing Model Name: MW-15
Commercial Name: Mouse Canyon MW-15 Wireless Pearl White (CNE-CMSW15PW)
Device Location: External
Connectivity Technology: Wireless
Wireless Technology: RF
Frequency: 2.4 GHz
Interface: USB
Number of Buttons: 4
Movement Resolution: 1600 dpi
Max&Min Movement Resolution: 800dpi1200dpi1600dpi
Pointing Device Technology: Optical
Mouse Features: Scrolling Wheel
Battery Technology: Carbon Zinc
Supports Battery Type Classification: AAA
Battery Included Quantity: 2
Battery Required Quantity: 2
Battery Average Run Time: 6 month(s)
External Color: Pearl White
Included Accessories: Quick Start Guide
Depth (mm): 77 mm
Height (mm): 115 mm
Width (mm): 38 mm
Weight Netto: 0.064 kg
Warranty Products Returnable: Yes
Warranty Term (month): 24 month(s)
Warranty validation Criteria: Serial Number
Pack Length (mm): 125 mm
Pack Width (mm): 40 mm
Pack Height (mm): 200 mm
Pack Weight Brutto (kg): 0.115 kg
Pack Weight Netto (kg): 0.092 kg
Pieces in pack: 1
Box Length (mm): 500 mm
Box Width (mm): 395 mm
Box Height (mm): 275 mm
Box Weight Brutto (kg): 4.5 kg
Retail Packaging Net Weight Carton: 0.014 kg
Retail Packaging Net Weight Plastic: 0.009 kg
Packs in Box: 48
Package Type: Retail
EAN Code: 5291485006907
Ostale informacije