CANYON H-20, PD 20W Input: 100V-240V, Output: 1 port charge: USB-C:PD 20W (5V3A/9V2.22A/12V1.67A) , Eu plug, Over- Voltage , over-heated, over-current and short circuit protection Compliant with CE R
Šifra artikla:
CNE-CHA20W02
Dostava:
Iznos dostave 3,50 EUR
Može biti na Vašoj adresi u roku 1-3 radna dana
Dostupnost artikla:
Artikl je dobavljiv isti ili najkasnije drugi dan
Ostvarite 10% popusta na virmansko, gotovinsko i crypto plaćanje.
Popust se obračunava na kraju narudžbe.
Pregled vrsta plaćanja
Pregled vrsta plaćanja
Popust za gotovinu:
11,65 EUR
Gotovina, pouzeće, internet bankarstvo ili kriptovalute.
Kartice jednokratno:
12,29 EUR
Platite karticom jednokratno ili putem Paypala.
Obročna otplata:
12,94 EUR
Platite do 36 rata bez kamata i naknada.
Leanpay do 36 rata:
12,94 EUR
Leanpay omogućuje brzo i jednostavno plaćanje na rate preko interneta. Za plaćanje na rate u košarici odaberite Leanpay kao vrstu plaćanja. Informativni izračun ne uključuje troškove procjene rizika.
Više informacija
|
Provjerite svoj limit
Wall Charger 20W With PD USB-C H-20
This AC adapter automatically detects the voltage and current required for a connected gadget due to the Power Delivery protocol. This allows the adapter to charge devices three times faster than usual while protecting them from overheating and thus extending battery life. In addition, the adapter is reliably protected from short circuits, current overload, overheating, and overvoltage. New technology in a classic form factor!
Features:
Smart detection of charging current parameters
Fast Charge PD 20W
USB-C port for charging
Input: 100-240 ?
Output: DC PD 5.0V/3.0A, 9.0V/2.22A, 12.0V/1.67A, 20.0W (Max)
4 types of protection
Compatibility: most smart phones, mobile phones, tablets, GPS, cameras, MP3, MP4, PDA, etc.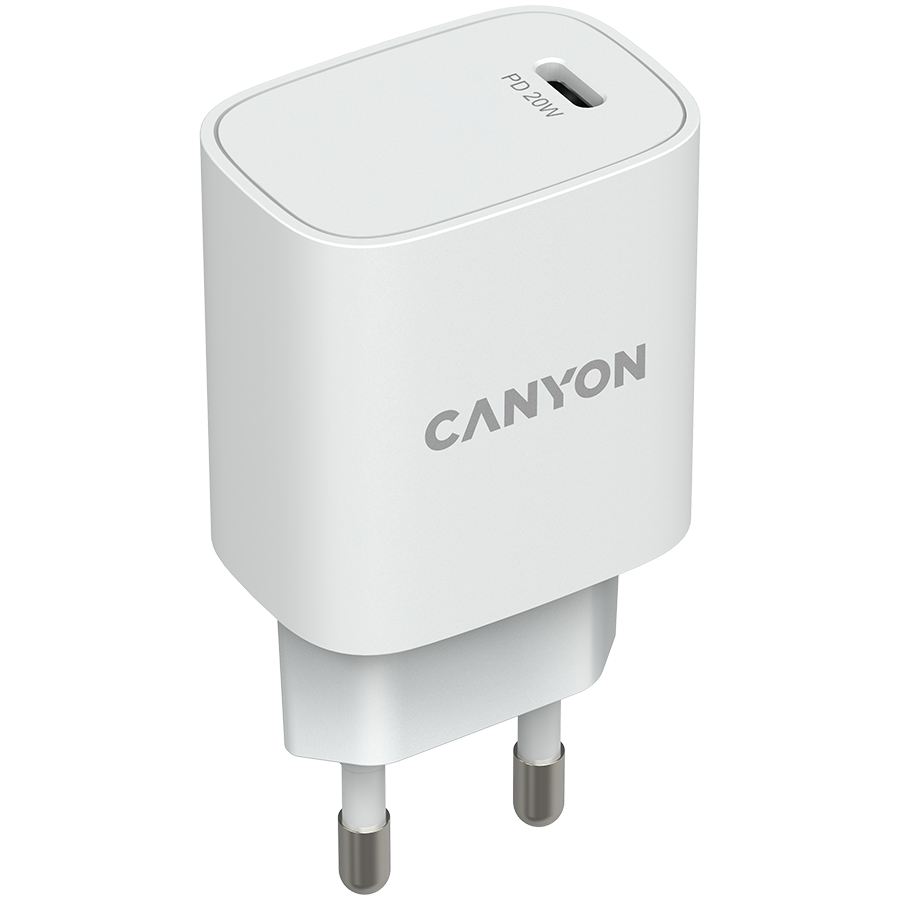 Marketing Model Name: H-20
Commercial Name: Power adapter Canyon H-20-02 PD 20W USB-C White (CNE-CHA20B02)
Power Device Type: Power Adapter
Power Device Location: External
Input Voltage: AC 100-240 V
Input Power Connectors Quantity: 1
Output Voltage: DC 5/9/12 V
Maximum Output Power: 20 W
Output Power Connectors Quantity: 1
Output Power Connectors Type: USB-C
Circuit Protection: Over Voltage Over Temperature Over Current Short Circuit Protection
Power Adapter and Power Supply Features: Power Delivery
Certifications: CE RoHs, ERP
USB Type C: DC 5/9/12V 3A20
External Color: White
Depth (mm): 80 mm
Height (mm): 30 mm
Width (mm): 42.3 mm
Nominal Weight: 0.055 kg
Warranty Products Returnable: Yes
Warranty Term (month): 24 month(s)
Warranty validation Criteria: Serial Number
Pack Length (mm): 81 mm
Pack Width (mm): 33 mm
Pack Height (mm): 127 mm
Pack Weight Brutto (kg): 0.076 kg
Pack Weight Netto (kg): 0.055 kg
Pieces in pack: 1
Box Length (mm): 495 mm
Box Width (mm): 275 mm
Box Height (mm): 270 mm
Box Weight Brutto (kg): 6.38 kg
Retail Packaging Net Weight Carton: 0.021 kg
Retail Packaging Net Weight Plastic: 0 kg
Packs in Box: 84
Package Type: Retail
EAN Code: 5291485008581
Quantity of the boxes per pallet (by air)(pcs): 40
Quantity of the packs per pallet (by air)(pcs): 3360
Quantity of the boxes per pallet (by sea)(pcs): 56
Quantity of the packs per pallet (by sea)(pcs): 4704
Dimensions of pallet (by sea)(cm): 120x92x1905 cm
Ostale informacije