CANYON H-05 Universal 3xUSB AC charger (in wall) with over-voltage protection, Input 100V-240V, Output 5V-4.2A, with Smart IC, white glossy color+ orange plastic part of USB, 89*46.3*27.2mm, 0.063kg
Šifra artikla:
CNE-CHA05W
Dostava:
Iznos dostave 25kn
Može biti na Vašoj adresi u roku 1-3 radna dana
Dostupnost artikla:
Artikl je dobavljiv isti ili najkasnije drugi dan
Ostvarite 10% popusta na virmansko, gotovinsko i crypto plaćanje.
Popust se obračunava na kraju narudžbe.
Pregled vrsta plaćanja
Pregled vrsta plaćanja
Popust za gotovinu:
89,56 Kn
Gotovina, pouzeće, internet bankarstvo ili kriptovalute.
Kartice jednokratno:
94,53 Kn
Platite karticom jednokratno ili putem Paypala.
Obročna otplata:
99,51 Kn
Platite do 36 rata bez kamata i naknada.
Leanpay do 36 rata:
99,51 Kn
Leanpay omogućuje brzo i jednostavno plaćanje na rate preko interneta. Za plaćanje na rate u košarici odaberite Leanpay kao vrstu plaćanja. Informativni izračun ne uključuje troškove procjene rizika.
Više informacija
|
Provjerite svoj limit
CNE-CHA05W Powerful Technology Multi-USB Wall Chargers
Premium performance and fast charge! This series of high-technology wall chargers look good and work even better. Advanced charging technology developed by Canyon provides tops speed of charging multiple devices at the same time. A great choice for those who have many friends and many gadgets!
Smart IC Technology
Built-in smart chip detects a type of charged device and delivers optimal electric current. Fastest charge and economy guaranteed!
Features:
• 3 USB ports
• Input: 100V-240V
• Output: 5V-4200mA
• Level 5 energy saving
• Smart IC Technology
• EU and UK Plugs
• Color: White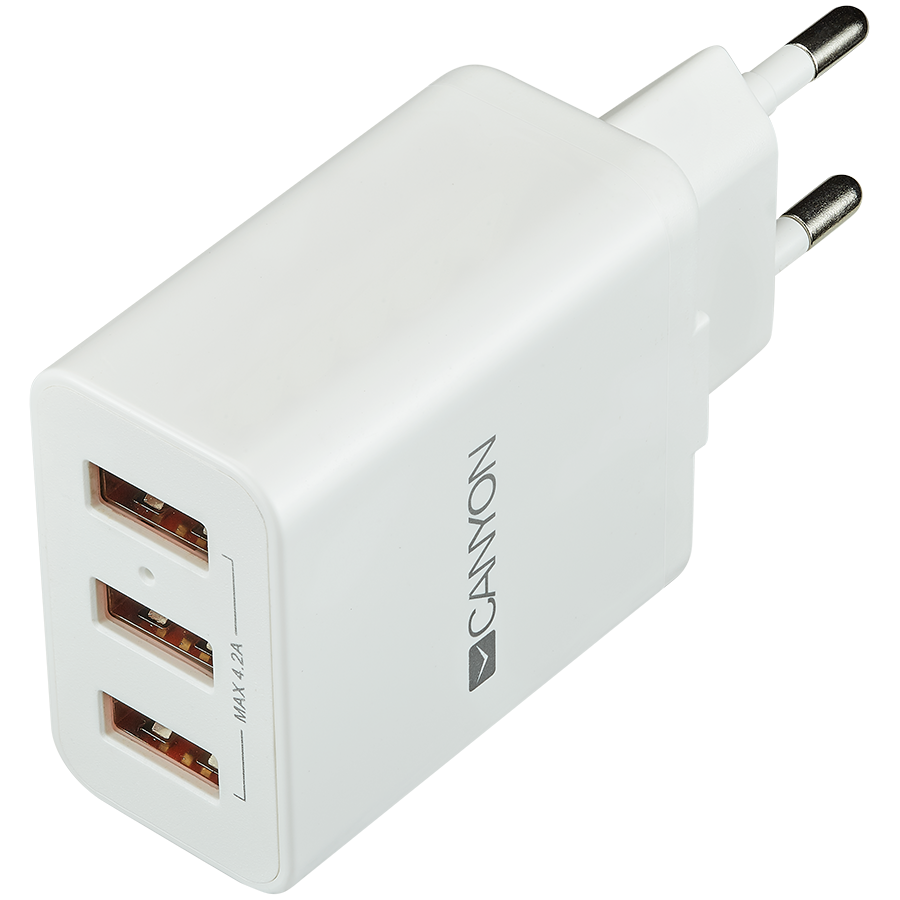 Marketing Model Name: H-05
Commercial Name: Power adapter Canyon H-05 4.2A/3USB-A White (CNE-CHA05W)
Power Device Type: Power Adapter
Power Device Location: Plug-in-module
Input Voltage: AC 100-240 V
Input Frequency: 50/60 Hz
Input Power Connectors Quantity: 1
Input Power Connectors Type: CEE 7/16
Output Voltage: DC 5 V
Rated Current: 4.2 A
Output Power Connectors Quantity: 3
Output Power Connectors Type: USB Type A
Circuit Protection: Over Voltage
External Color: White
Depth (mm): 27.2 mm
Height (mm): 46.3 mm
Width (mm): 89 mm
Warranty Products Returnable: Yes
Warranty Term (month): 24 month(s)
Warranty validation Criteria: Serial Number
Pack Length (mm): 81 mm
Pack Width (mm): 33 mm
Pack Height (mm): 127 mm
Pack Weight Brutto (kg): 0.078 kg
Pack Weight Netto (kg): 0.063 kg
Pieces in pack: 1
Box Length (mm): 500 mm
Box Width (mm): 272 mm
Box Height (mm): 268 mm
Box Weight Brutto (kg): 7.352 kg
Retail Packaging Net Weight Carton: 0.015 kg
Retail Packaging Net Weight Plastic: 0 kg
Packs in Box: 84
Package Type: Retail
EAN Code: 5291485003791
Quantity of the boxes per pallet (by air)(pcs): 40
Quantity of the packs per pallet (by air)(pcs): 3360
Dimensions of pallet (by air)(cm): 1000x1490x1200 mm
Quantity of the boxes per pallet (by sea)(pcs): 56
Quantity of the packs per pallet (by sea)(pcs): 4704
Dimensions of pallet (by sea)(cm): 1000x2026x1200 mm
Ostale informacije