CANYON GP-W3, 2.4G Wireless Controller with built-in 600mah battery, 1M Type-C charging cable ,6 axis motion sensor support nintendo switch ,android,PC X-input/D-input,ps3,normal size dongle,black
Dostava:
Iznos dostave 3,50 EUR
Može biti na Vašoj adresi u roku 1-3 radna dana
Dostupnost artikla:
Artikl je dobavljiv isti ili najkasnije drugi dan
Ostvarite 10% popusta na virmansko, gotovinsko i crypto plaćanje.
Popust se obračunava na kraju narudžbe.
Pregled vrsta plaćanja
Pregled vrsta plaćanja
Popust za gotovinu:
29,96 EUR
Gotovina, pouzeće, internet bankarstvo ili kriptovalute.
Kartice jednokratno:
31,63 EUR
Platite karticom jednokratno ili putem Paypala.
Obročna otplata:
33,29 EUR
Platite do 36 rata bez kamata i naknada.
Leanpay do 36 rata:
33,29 EUR
Leanpay omogućuje brzo i jednostavno plaćanje na rate preko interneta. Za plaćanje na rate u košarici odaberite Leanpay kao vrstu plaćanja. Informativni izračun ne uključuje troškove procjene rizika.
Više informacija
|
Provjerite svoj limit
Wireless Gamepad 4-in-1
More options for moving around your favorite games! This wireless gamepad is compatible with the most popular game consoles, including the Nintendo Switch. 16 buttons with impressive individual backlight makes it easy to customize the gadget to the specifics of your favorite game, and the absence of a wire and haptic response will deliver a complete immersion into its atmosphere. The ergonomic shape of the case and the arrangement of buttons make the gameplay very comfortable. The maximum distance from the console is 10 meters, which will allow you to sit conveniently in any room. Play tirelessly!
Features:
2.4 GHz Wireless connection
Individual button backlight
16 buttons
2 embedded vibration motors for haptic feedback
Motion sensor (Nintendo switch)
High capacity battery: 600 mAh
Charging via Type C port
Compatibility: Nintendo Switch / Android / PC / PS3
Plug-and-play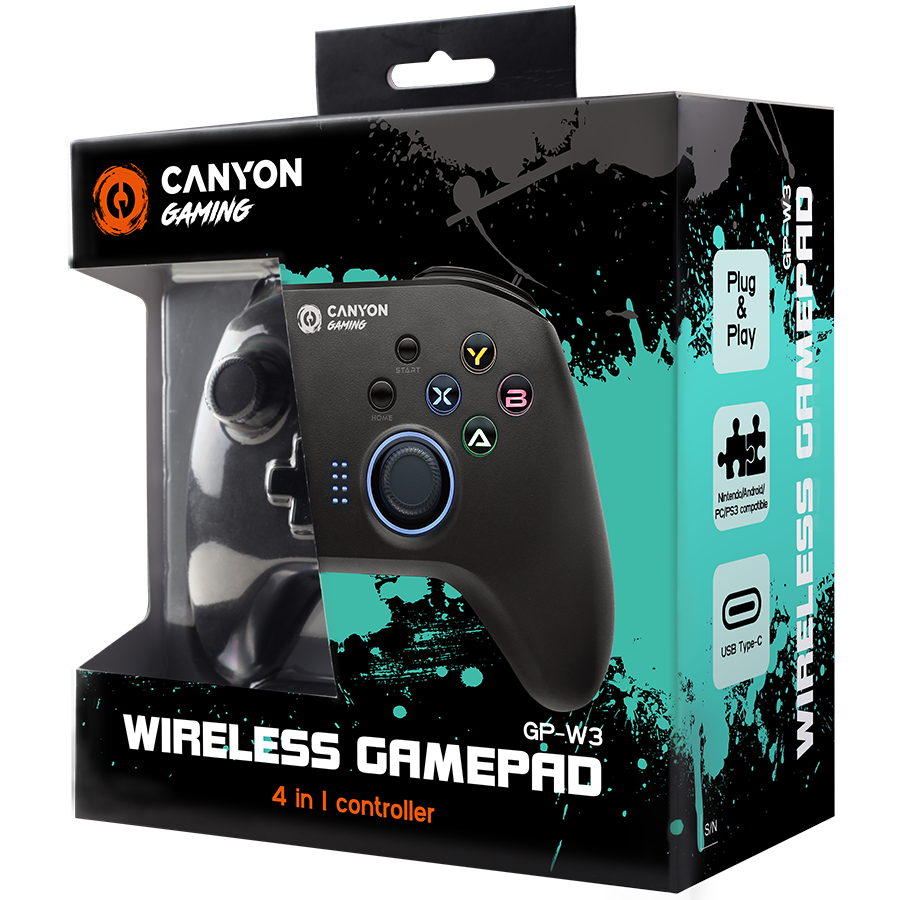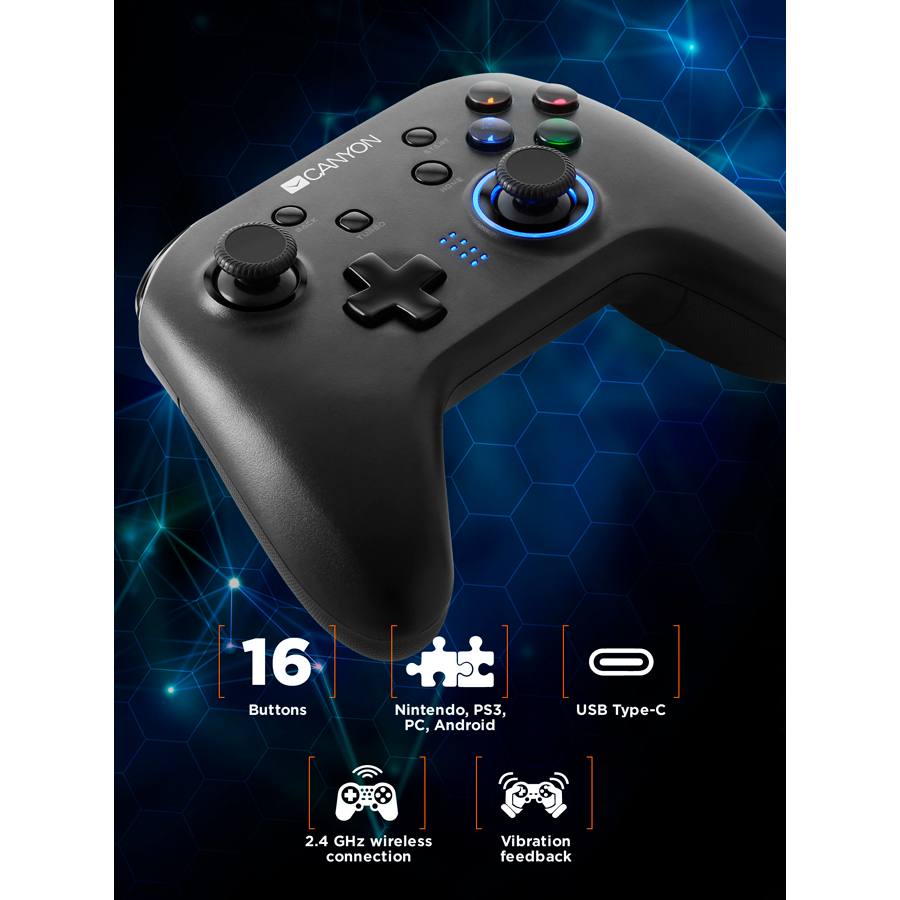 Marketing Model Name: GP-W3
Commercial Name: Gamepad Canyon GP-W3 Android/Nintendo/PC/PS3 Wireless Black (CND-GPW3)
Device Type: Gamepad
Device Location: External
Connectivity Technology: Wireless
Built-in Devices: Motion Sensor
Interface: USB Type C
External Color: Black
Cable Included: USB Type C Cable
Cable Length: 1 m
Parent Products: Sony Playstation 3
Battery Technology: Lithium Ion
Battery Current Capacity: 600 mAh
Continuous Use: up to 8 hr
Warranty Products Returnable: Yes
Warranty Term (month): 24 month(s)
Warranty validation Criteria: Serial Number
Pack Length (mm): 172 mm
Pack Width (mm): 80 mm
Pack Height (mm): 174 mm
Pack Weight Brutto (kg): 0.374 kg
Pack Weight Netto (kg): 0.24 kg
Pieces in pack: 1
Box Length (mm): 497 mm
Box Width (mm): 364 mm
Box Height (mm): 374 mm
Box Weight Brutto (kg): 9.58 kg
Retail Packaging Net Weight Carton: 0.078 kg
Retail Packaging Net Weight Plastic: 0.056 kg
Packs in Box: 24
Packs per Pallet: 720
Package Type: Retail
EAN Code: 5291485006389
Quantity of the boxes per pallet (by air)(pcs): 18
Dimensions of pallet (by air)(cm): 1200x1000x1272 mm
Quantity of the boxes per pallet (by sea)(pcs): 30
Dimensions of pallet (by sea)(cm): 1200x1000x2020 mm
Ostale informacije