CANYON DS-8 Multiport Docking Station with 8 port, 1*Type C PD100W+2*Type C data+2*HDMI+2*USB3.0+1*Audio. Input 100-240V, Output USB-C PD100W&USB-A 5V/1A, Aluminium alloy, Space gray, 135*48*10mm, 0.0
Šifra artikla:
CNS-TDS08DG
Dostava:
Iznos dostave 25kn
Može biti na Vašoj adresi u roku 1-3 radna dana
Dostupnost artikla:
Artikl je dobavljiv isti ili najkasnije drugi dan
Ostvarite 10% popusta na virmansko, gotovinsko i crypto plaćanje.
Popust se obračunava na kraju narudžbe.
Pregled vrsta plaćanja
Pregled vrsta plaćanja
Popust za gotovinu:
588,10 Kn
Gotovina, pouzeće, internet bankarstvo ili kriptovalute.
Kartice jednokratno:
620,77 Kn
Platite karticom jednokratno ili putem Paypala.
Obročna otplata:
653,44 Kn
Platite do 36 rata bez kamata i naknada.
CNS-TDS08DG
Type C 3.0
Docking Station 8-in-1
Maximum features for your MacBook! The HDMI port will provide high-quality video transmission in 4k format. An extensive set of USB ports allows you to transfer data at maximum speed for devices with connectors such as 3.0 USB-A, USB-C, Type C PD 3.0. The 3.5 mm audio interface makes it possible to broadcast highquality sound if necessary. This aluminum hub is the perfect complement to the latest MacBook Pro / Air models in terms of impressive functionality and matching design. Connect 2 monitors without unnecessary efforts and get to work. Extend the functionality of your MacBook!
Features:
Full aluminum case
Anti-slip frame
Up to 40Gbps data transmission
87W charging power
2 x Support USB 3.0 super speed 5Gb/s data transmission
2 x HDMI: 4K@30Hz or Full HD 1080P@60Hz
2 x Type C data transfer
1 x 3.5mm Audio
"Plug and play" mode
"Hot-swap" mode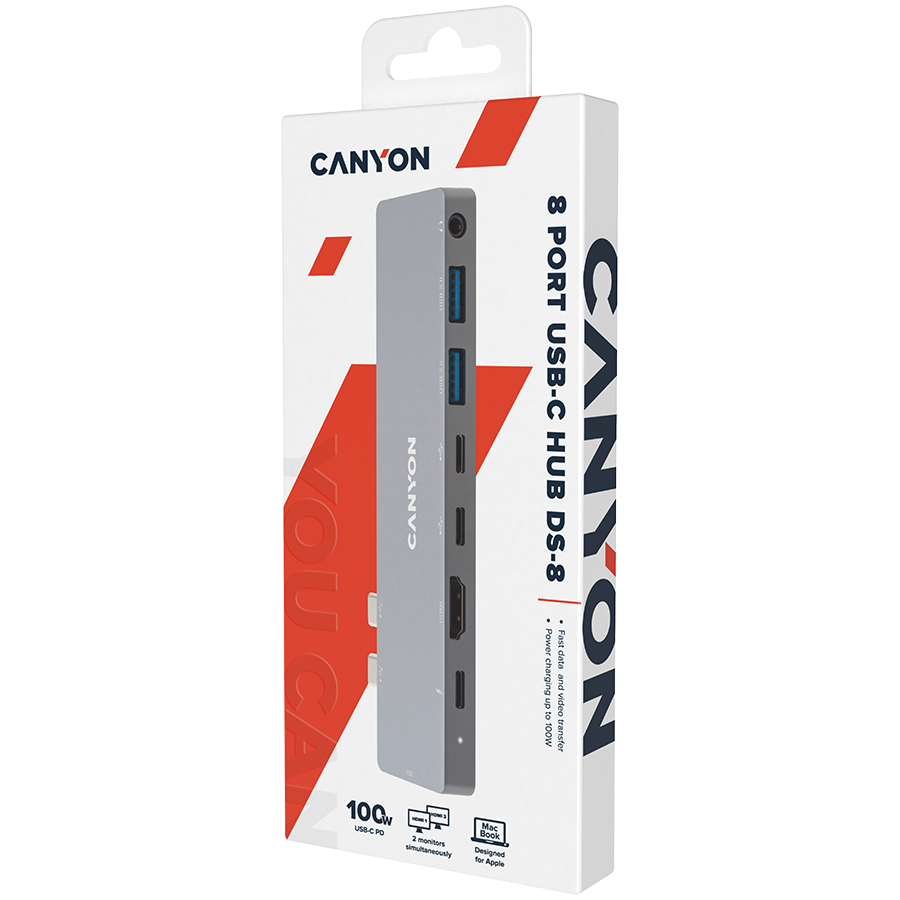 Marketing Model Name: DS-8
Commercial Name: Hub Canyon DS-8 8in1 Thunderbolt 4k Space Grey (CNS-TDS08DG)
Abbreviated Description: Multiport Docking Station
External Color: Space Gray
Interface: USB 3.0
Provides Ports: Audio-In HDMI USB 3.0
Width (mm): 10 mm
Depth (mm): 135 mm
Height (mm): 48 mm
Nominal Weight: 0.056 kg
Included Accessories: Power Adapter
USB 3.0: 2 (USB 2.0 (type A))
HDMI: 2 (HDMI (Type A))
Audio Line-In: 1 (3.5-mm minijack)
USB: 2 (USB Type-C)
Width (mm): 10 mm
Height (mm): 48 mm
Depth (mm): 135 mm
Nominal Weight: 0.062 kg
Warranty Products Returnable: Yes
Warranty Term (month): 24 month(s)
Warranty validation Criteria: Serial Number
Pack Length (mm): 63 mm
Pack Width (mm): 24 mm
Pack Height (mm): 168 mm
Pack Weight Brutto (kg): 0.118 kg
Pack Weight Netto (kg): 0.062 kg
Pieces in pack: 1
Box Length (mm): 383 mm
Box Width (mm): 206 mm
Box Height (mm): 260 mm
Box Weight Brutto (kg): 7.58 kg
Retail Packaging Net Weight Carton: 0.056 kg
Retail Packaging Net Weight Plastic: 0 kg
Packs in Box: 60
Package Type: Retail
EAN Code: 5291485006136
Quantity of the boxes per pallet (by air)(pcs): 44
Quantity of the packs per pallet (by air)(pcs): 2640
Dimensions of pallet (by air)(cm): 1000x1358x1200 mm
Quantity of the boxes per pallet (by sea)(pcs): 77
Quantity of the packs per pallet (by sea)(pcs): 4620
Dimensions of pallet (by sea)(cm): 1000x2113x1200 mm
Ostale informacije