CANYON DS-6 Multiport Docking Station with 7 ports: 2*Type C+1*HDMI+2*USB3.0+1*RJ45+1*audio 3.5mm, Input 100-240V, Output USB-C PD 5-20V/3A&USB-A 5V/1A, with type c to type c cabel 0.3m, Space gray, 2
Šifra artikla:
CNS-TDS06DG
Dostava:
Iznos dostave 3,50 EUR
Može biti na Vašoj adresi u roku 1-3 radna dana
Dostupnost artikla:
Artikl je dobavljiv isti ili najkasnije drugi dan
Ostvarite 10% popusta na virmansko, gotovinsko i crypto plaćanje.
Popust se obračunava na kraju narudžbe.
Pregled vrsta plaćanja
Pregled vrsta plaćanja
Popust za gotovinu:
56,55 EUR
Gotovina, pouzeće, internet bankarstvo ili kriptovalute.
Kartice jednokratno:
59,69 EUR
Platite karticom jednokratno ili putem Paypala.
Obročna otplata:
62,83 EUR
Platite do 36 rata bez kamata i naknada.
Leanpay do 36 rata:
62,83 EUR
Leanpay omogućuje brzo i jednostavno plaćanje na rate preko interneta. Za plaćanje na rate u košarici odaberite Leanpay kao vrstu plaćanja. Informativni izračun ne uključuje troškove procjene rizika.
Više informacija
|
Provjerite svoj limit
USB Type C Multiport Hub 6-in-1
This is a truly universal USB Type C hub for a laptop, because it has all slots that an average user could need for daily work. It provides high-quality 4K HDMI connection with a monitor, stable 1000 Mbit ethernet, speedy USB 3.0 Type A connection, dual audio channel for microphone and earphones and 2 USB type C extensions - for charging and connecting other devices. The stability of all connections is maintained by high-quality PWC cable, and durable aluminum case protects the hub from any external damage. You can also use it as a docking station or a stand by putting your laptop on its upper edge.
HDMI port: 4K, 30Hz
3.5 mm combined audio jack - for microphone and headphones
2 USB Type C ports: 60W Power Delivery charging, and data transferring
2 USB 3.0 Type A ports: up to 5 Gb/s high speed data transfer
Ethernet output: 1000 Mbit
Highly durable aluminum casing
Plug-and-play usage with Mac OS and Windows
Compatible with all USB type C Macbooks 2016-18, PC, Laptops
Product size: 226*33.7*24mm
Can be used as a docking station or a stand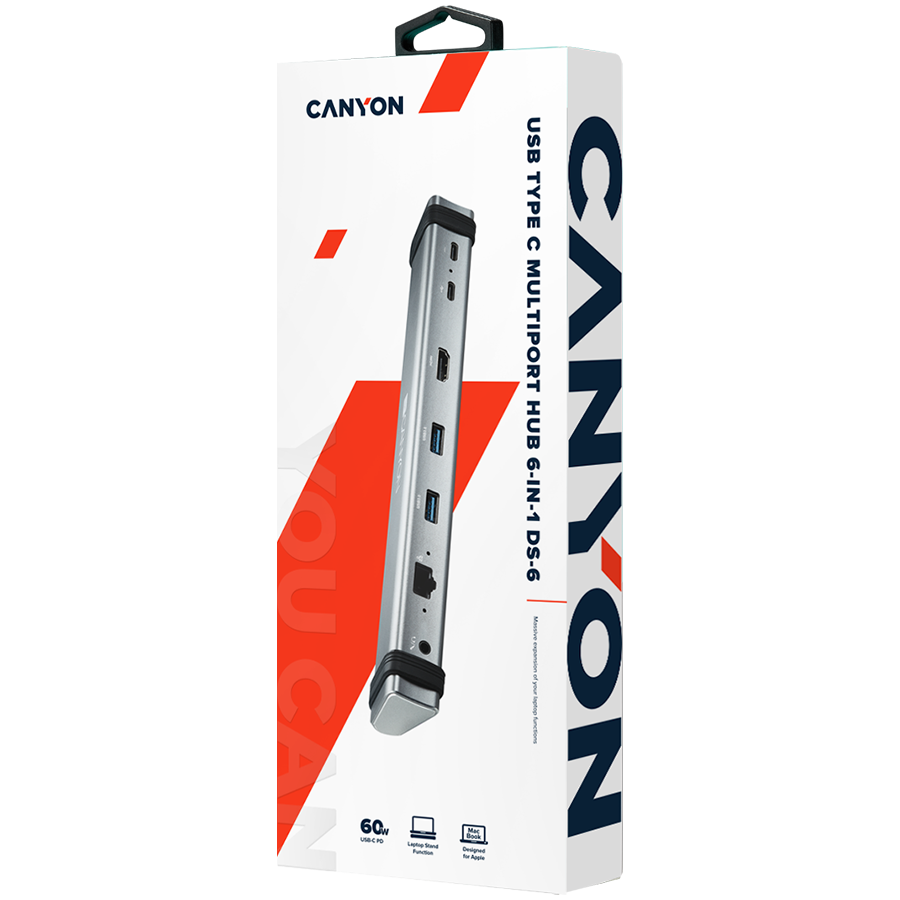 Marketing Model Name: DS-6
Commercial Name: Hub Canyon DS-6 6in1 4k USB-C Space Grey (CNS-TDS06DG)
Abbreviated Description: Multiport Docking Station with 7 ports: 2*Type C+1*HDMI+2*USB3.0+1*RJ45+1*audio 3.5mm, Input 100-240V, Output USB-C PD 5-20V/3A&USB-A 5V/1A, with type c to type c cabel 0.3m, Space gray
External Color: Space Gray
Interface: USB Type C
Provides Ports: Ethernet Audio-Out HDMI USB 3.0
Cable Included: USB Type C Cable
Width (mm): 226 mm
Depth (mm): 24 mm
Height (mm): 33.7 mm
Nominal Weight: 0.174 kg
USB 3.0: 2 (USB 3.0 (type A))
HDMI: 1 (HDMI (Type A))
USB: 2 (USB Type-C)
LAN: 1 (RJ-45)
Audio Line-Out: 1 (3.5-mm minijack)
Width (mm): 225.1 mm
Height (mm): 31.7 mm
Depth (mm): 22.5 mm
Nominal Weight: 0.178 kg
Warranty Products Returnable: Yes
Warranty Term (month): 24 month(s)
Warranty validation Criteria: Serial Number
Pack Length (mm): 90.7 mm
Pack Width (mm): 32.4 mm
Pack Height (mm): 269.2 mm
Pack Weight Brutto (kg): 0.321 kg
Pack Weight Netto (kg): 0.178 kg
Pieces in pack: 1
Box Length (mm): 322 mm
Box Width (mm): 300 mm
Box Height (mm): 304 mm
Box Weight Brutto (kg): 9.27 kg
Retail Packaging Net Weight Carton: 0.143 kg
Retail Packaging Net Weight Plastic: 0 kg
Packs in Box: 27
EAN Code: 5291485004330
Quantity of the boxes per pallet (by air)(pcs): 48
Quantity of the packs per pallet (by air)(pcs): 1296
Dimensions of pallet (by air)(cm): 1150x1000x1300 mm
Quantity of the boxes per pallet (by sea)(pcs): 72
Quantity of the packs per pallet (by sea)(pcs): 1944
Dimensions of pallet (by sea)(cm): 1150x1000x1990 mm
Ostale informacije