CANYON DS-1 Multiport Docking Station with 3 port, with Thunderbolt 3 Dual type C male port, 1*Thunderbolt 3 female+1*HDMI+1*USB3.0. Input 100-240V, Output USB-C PD100W&USB-A 5V/1A, Aluminium alloy, S
Šifra artikla:
CNS-TDS01DG
Dostava:
Iznos dostave 3,50 EUR
Može biti na Vašoj adresi u roku 1-3 radna dana
Dostupnost artikla:
Artikl je dobavljiv isti ili najkasnije drugi dan
Ostvarite 10% popusta na virmansko, gotovinsko i crypto plaćanje.
Popust se obračunava na kraju narudžbe.
Pregled vrsta plaćanja
Pregled vrsta plaćanja
Popust za gotovinu:
23,71 EUR
Gotovina, pouzeće, internet bankarstvo ili kriptovalute.
Kartice jednokratno:
25,02 EUR
Platite karticom jednokratno ili putem Paypala.
Obročna otplata:
26,34 EUR
Platite do 36 rata bez kamata i naknada.
Leanpay do 36 rata:
26,34 EUR
Leanpay omogućuje brzo i jednostavno plaćanje na rate preko interneta. Za plaćanje na rate u košarici odaberite Leanpay kao vrstu plaćanja. Informativni izračun ne uključuje troškove procjene rizika.
Više informacija
|
Provjerite svoj limit
CNS-TDS01DG
Thunderbolt 3 Docking Station
3-in-1
This stylish aluminum hub is a perfect addition to the latest MacBook Pro / Air models. Connect multiple modern devices to three types of ports: 3.0 USB, HDMI 4K and Thunderbolt 3 and get an uninterrupted, fast and rich broadcast of audio and video information. The hub will perfectly complement your set of devices due to its high speed, durability, ease of connection, compactness and matching design. A great solution for those who do a lot of travel for work. Extend your MacBook with no extra effort!
Features:
Full aluminum case
Anti-slip frame
Thunderbolt 3 port 100W PD
Up to 40Gbps data transmission
Up to 100W charging power
Support USB 3.0 super speed 5Gb/s data transmission
HDMI: 4K@30Hz or Full HD 1080P@60Hz
"Plug and play" mode
"Hot-swap" mode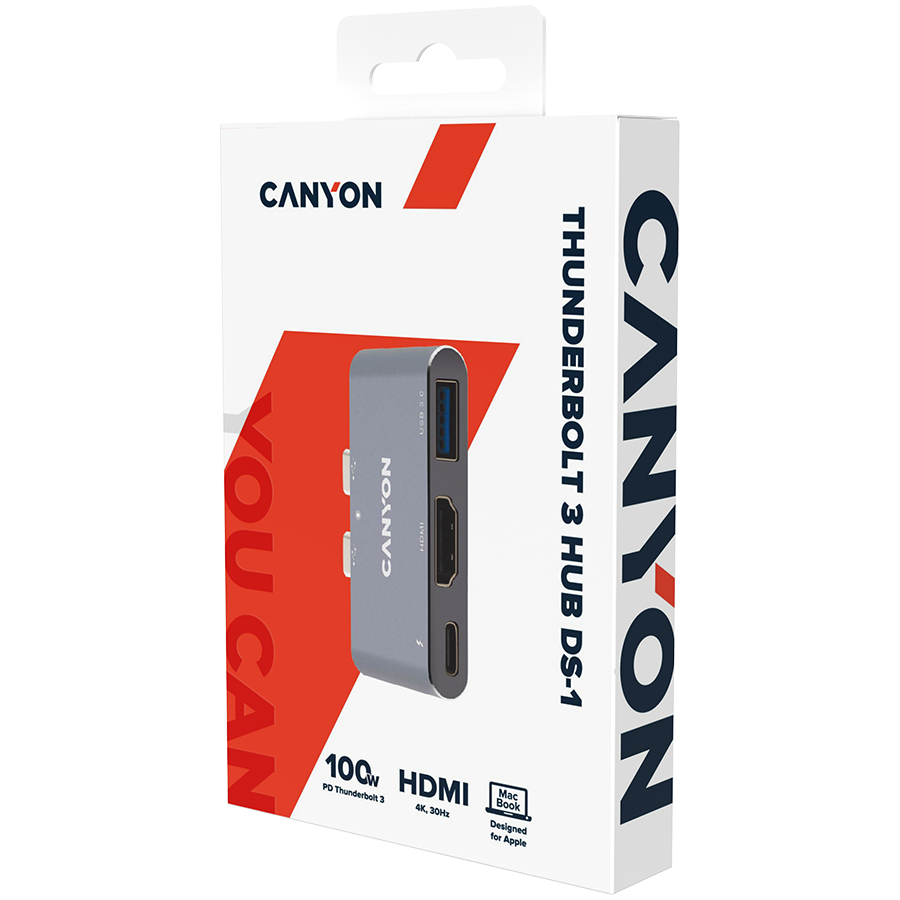 Marketing Model Name: DS-1
Commercial Name: Hub Canyon DS-1 3in1 Thunderbolt 3 Space Grey (CNS-TDS01DG)
Abbreviated Description: Multiport Docking Station
External Color: Space Gray
Interface: 2 x USB-C
Provides Ports: HDMI USB 3.0 Thunderbolt
Width (mm): 10 mm
Depth (mm): 59 mm
Height (mm): 35.5 mm
Nominal Weight: 0.028 kg
Included Accessories: Power Adapter
Thunderbolt 3: 1 (USB Type-C)
USB 3.0: 1 (USB 2.0 (type A))
HDMI: 1 (HDMI (Type A))
Width (mm): 10 mm
Height (mm): 35.5 mm
Depth (mm): 59 mm
Nominal Weight: 0.031 kg
Warranty Products Returnable: Yes
Warranty Term (month): 24 month(s)
Warranty validation Criteria: Serial Number
Pack Length (mm): 78 mm
Pack Width (mm): 126 mm
Pack Height (mm): 17.8 mm
Pack Weight Brutto (kg): 0.075 kg
Pack Weight Netto (kg): 0.031 kg
Pieces in pack: 1
Box Length (mm): 295 mm
Box Width (mm): 206 mm
Box Height (mm): 260 mm
Box Weight Brutto (kg): 5 kg
Retail Packaging Net Weight Carton: 0.044 kg
Retail Packaging Net Weight Plastic: 0 kg
Packs in Box: 60
Package Type: Retail
EAN Code: 5291485006112
Quantity of the boxes per pallet (by air)(pcs): 100
Quantity of the packs per pallet (by air)(pcs): 6000
Dimensions of pallet (by air)(cm): 1200x1000x1450 mm
Quantity of the boxes per pallet (by sea)(pcs): 140
Quantity of the packs per pallet (by sea)(pcs): 8400
Dimensions of pallet (by sea)(cm): 1200x1000x1970 mm
Ostale informacije