Canyon C-20, PD 20W Pocket size car charger, input: DC12V-24V, output: PD20W, support iPhone12 PD fast charging, Compliant with CE RoHs , Size: 50.6*23.4*23.4, 18g, Black
Šifra artikla:
CNS-CCA20B
Dostava:
Iznos dostave 3,50 EUR
Može biti na Vašoj adresi u roku 1-3 radna dana
Dostupnost artikla:
Artikl je dobavljiv isti ili najkasnije drugi dan
Ostvarite 10% popusta na virmansko, gotovinsko i crypto plaćanje.
Popust se obračunava na kraju narudžbe.
Pregled vrsta plaćanja
Pregled vrsta plaćanja
Popust za gotovinu:
9,65 EUR
Gotovina, pouzeće, internet bankarstvo ili kriptovalute.
Kartice jednokratno:
10,18 EUR
Platite karticom jednokratno ili putem Paypala.
Obročna otplata:
10,72 EUR
Platite do 36 rata bez kamata i naknada.
Leanpay do 36 rata:
10,72 EUR
Leanpay omogućuje brzo i jednostavno plaćanje na rate preko interneta. Za plaćanje na rate u košarici odaberite Leanpay kao vrstu plaćanja. Informativni izračun ne uključuje troškove procjene rizika.
Više informacija
|
Provjerite svoj limit
Car charger
C-20
This car adapter has Power Delivery technology, which allows you to charge your gadgets as quickly as possible while driving the car. The USB Type-C port can directly charge most modern smartphones. And the main advantage of charging is automatic detection of the electric current of the car, which adds security to the charged devices and makes charging more durable.
Features:
Input: DC12V-24V
Output: Fast Charge Power Delivery 20W
SCP/OCP/OHP/OLP protection
Smart auto-tuning optimal current parameters
USB type-C charging port
Quick charge iPhone 12 and other modern gadgets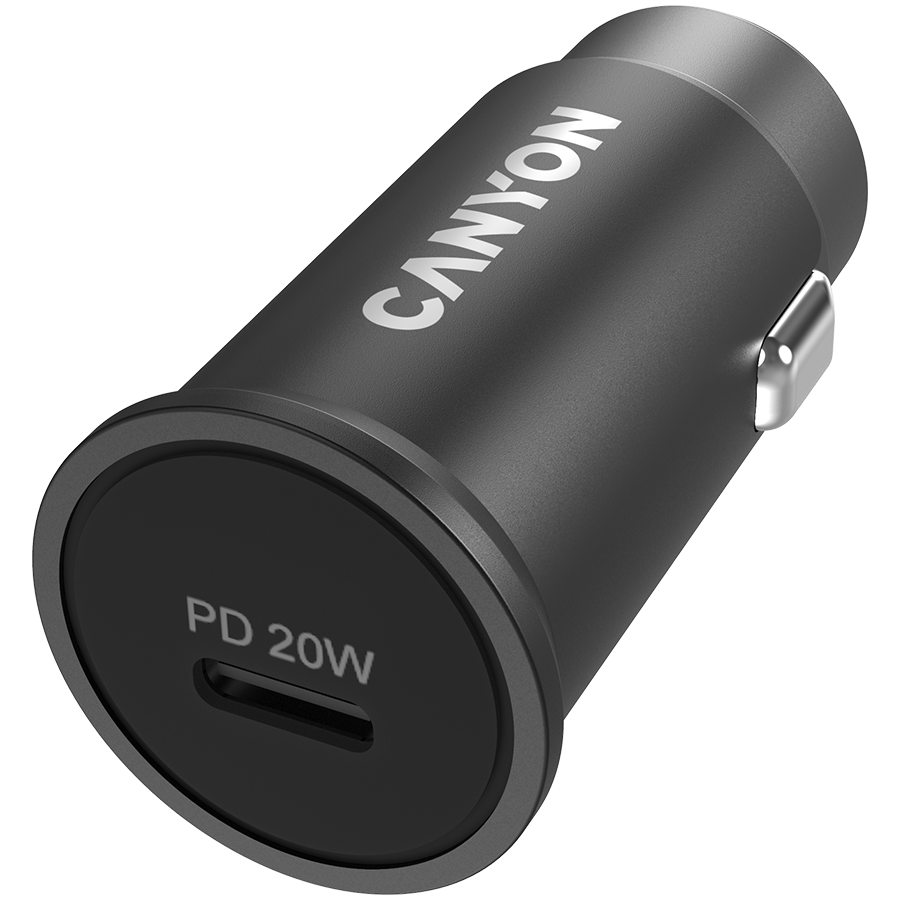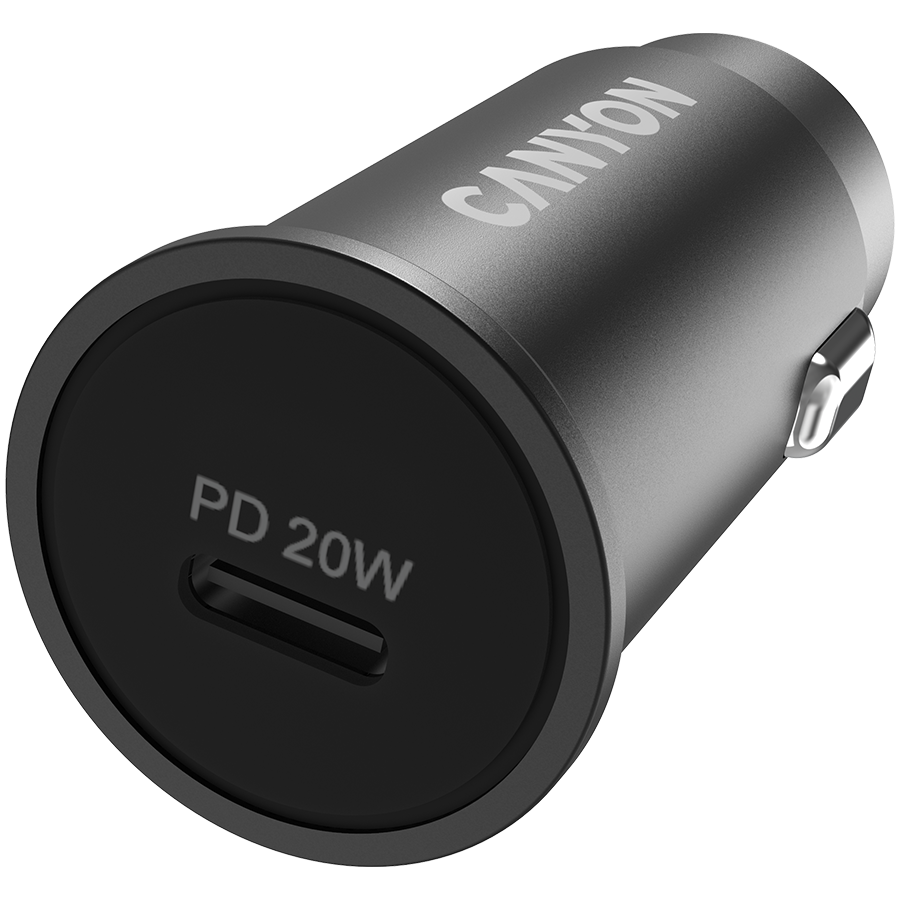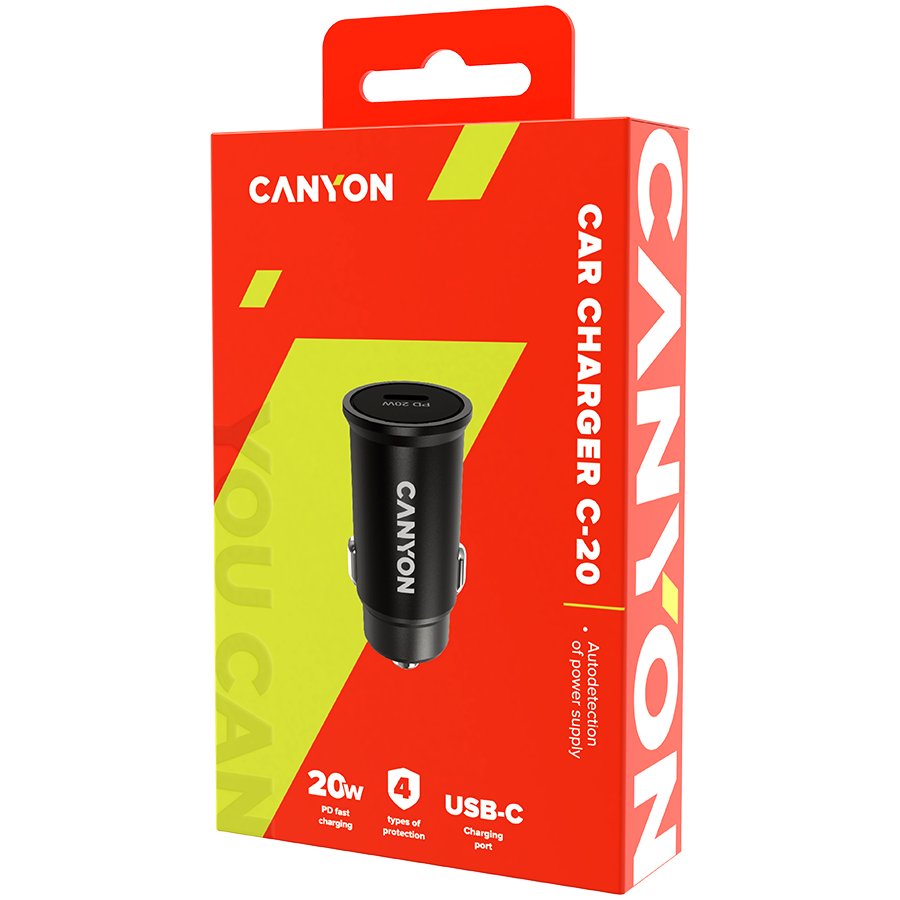 Marketing Model Name: C-20
Commercial Name: Car charger Canyon C-20 PD 20W USB-C Black (CNS-CCA20B)
Power Device Type: Car Adapter
Power Device Location: External
Input Voltage: DC 12/24 V
Input Power Connectors Quantity: 1
Input Power Connectors Type: Cigarette Lighter Receptacle
Maximum Output Power: 20 W
Output Power Connectors Quantity: 1
Output Power Connectors Type: USB-C
Circuit Protection: Over Temperature Over Current Short Circuit Protection Over Load
Power Adapter and Power Supply Features: Power Delivery
Certifications: CE, RoHs
Power Output: 1 (USB Type-C)
External Color: Black
Depth (mm): 50.6 mm
Height (mm): 23.4 mm
Width (mm): 23.4 mm
Nominal Weight: 0.014 kg
Warranty Products Returnable: Yes
Warranty Term (month): 24 month(s)
Warranty validation Criteria: Serial Number
Pack Length (mm): 81 mm
Pack Width (mm): 28 mm
Pack Height (mm): 127 mm
Pack Weight Brutto (kg): 0.026 kg
Pack Weight Netto (kg): 0.014 kg
Pieces in pack: 1
Box Length (mm): 460 mm
Box Width (mm): 272 mm
Box Height (mm): 268 mm
Box Weight Brutto (kg): 2.94 kg
Retail Packaging Net Weight Carton: 0.012 kg
Retail Packaging Net Weight Plastic: 0 kg
Packs in Box: 90
Package Type: Retail
EAN Code: 5291485008222
Carton weight (kg): 2.94 kg
Quantity of the boxes per pallet (by air)(pcs): 45
Quantity of the packs per pallet (by air)(pcs): 4050
Dimensions of pallet (by air)(cm): 1000x1490x1200 mm
Quantity of the boxes per pallet (by sea)(pcs): 63
Quantity of the packs per pallet (by sea)(pcs): 5670
Dimensions of pallet (by sea)(cm): 1000x2026x1200 mm
Ostale informacije