CANYON  BSP-7 Bluetooth Speaker, BT V5.0, Jieli JLAC6925B, 3.5mm AUX, 1*USB-A port, micro-USB port, 1500mAh lithium ion  battery, Black, cable length 0.6m, 278*117 *128mm, 0.941kg
Šifra artikla:
CNE-CBTSP7
Dostava:
Iznos dostave 25kn
Može biti na Vašoj adresi u roku 1-3 radna dana
Dostupnost artikla:
Artikl je dobavljiv isti ili najkasnije drugi dan
Ostvarite 10% popusta na virmansko, gotovinsko i crypto plaćanje.
Popust se obračunava na kraju narudžbe.
Pregled vrsta plaćanja
Pregled vrsta plaćanja
Popust za gotovinu:
247,36 Kn
Gotovina, pouzeće, internet bankarstvo ili kriptovalute.
Kartice jednokratno:
261,10 Kn
Platite karticom jednokratno ili putem Paypala.
Obročna otplata:
274,84 Kn
Platite do 36 rata bez kamata i naknada.
Leanpay do 36 rata:
274,84 Kn
Leanpay omogućuje brzo i jednostavno plaćanje na rate preko interneta. Za plaćanje na rate u košarici odaberite Leanpay kao vrstu plaćanja. Informativni izračun ne uključuje troškove procjene rizika.
Više informacija
|
Provjerite svoj limit
Outdoor wireless speaker BSP-7
This speaker will add a festive mood to your home party and picnic! Deep surround sound combined with stylish lighting will create a lively atmosphere for relaxation, training, or friend meeting. The speaker is compatible with Windows, iOS, and Android and supports four connection types - Bluetooth, FM, AUX, USB - a full range for control and usage. Wireless connection Bluetooth 5.0 provides high-quality music signal transmission at high speeds at a distance of up to 10 meters while saving battery power. The optimal size and the shoulder strap allow you to easily carry the speaker to a picnic or country house and arrange nice outdoor parties.
Features:
Deep bass
Party lights
"True Wireless Stereo" function
Bluetooth version 5.0
Operating range: up to 10 m
Frequency: 120-15000 Hz
Playing time: 4h (no light), 2.5h (with light) at 50% volume
Interfaces: BT, FM, AUX, USB
Power: 9 W
Transmitted power per channel: <20 mW
Compatible with: Windows / iOS / Android
Size: 278 x 117 x 128 mm
Weight netto: 0.9 kg
Shoulder strap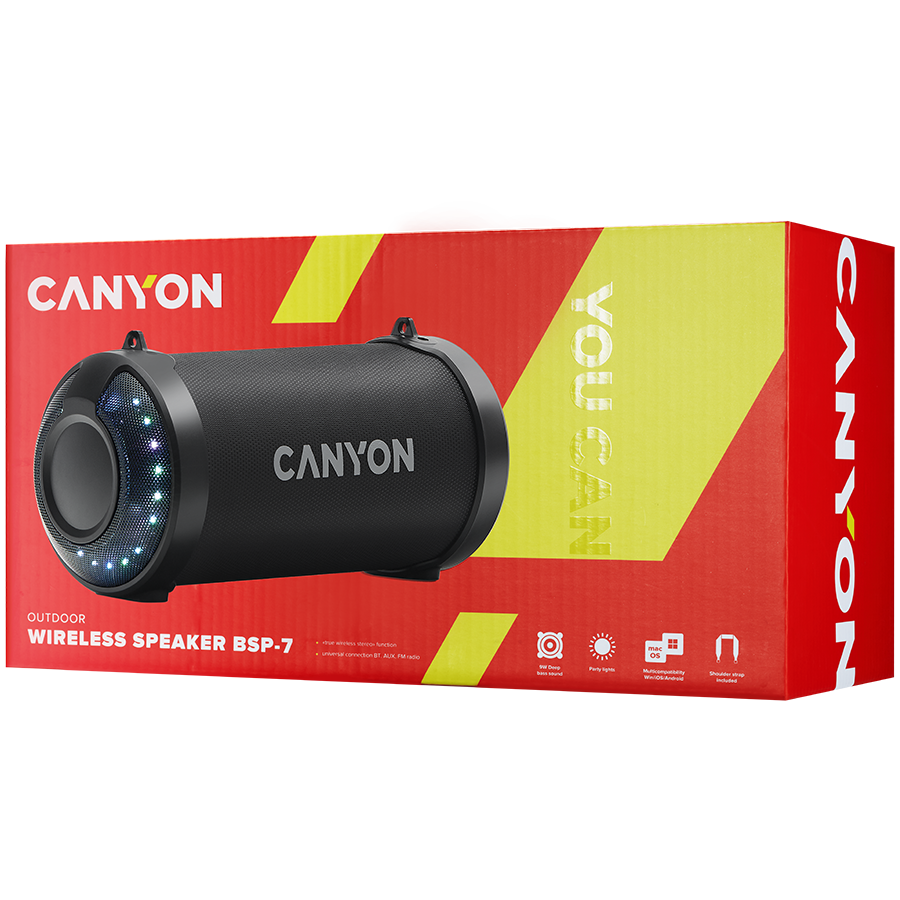 Marketing Model Name: BSP-7
Commercial Name: Speaker Canyon BSP-7 9W LED Black (CNE-CBTSP7)
System Type: Portable Speaker
Number of Speakers: 1
Bluetooth: Bluetooth 5.0
Audio Interface: 1 (3.5-mm minijack)
USB: 1 (USB 2.0 (type A))
Depth (mm): 117 mm
Height (mm): 278 mm
Width (mm): 128 mm
Nominal Weight: 0.941 kg
Cable Included: Micro-USB Cable Micro-USB Cable: 0.6 m
External Color: Black
Device Location: External (Autonomic)
Power Device Location: External
Power Source: USB Interface
Power Port Quantity: 1
Power Port Connector Type: micro-USB (type B)
Battery Technology: Lithium Ion
Battery Installed Quantity: 1
Battery Current Capacity: 1500 mAh
Warranty Products Returnable: Yes
Warranty Term (month): 24 month(s)
Warranty validation Criteria: Serial Number
Pack Length (mm): 295 mm
Pack Width (mm): 143 mm
Pack Height (mm): 158 mm
Pack Weight Brutto (kg): 1.26 kg
Pack Weight Netto (kg): 0.941 kg
Pieces in pack: 1
Box Length (mm): 605 mm
Box Width (mm): 314 mm
Box Height (mm): 492 mm
Box Weight Brutto (kg): 15.2 kg
Retail Packaging Net Weight Carton: 0.319 kg
Retail Packaging Net Weight Plastic: 0 kg
Packs in Box: 12
Package Type: Retail
EAN Code: 5291485007522
Color box dimensions (mm): 143x158x295 mm
Single pack gross weight (kg): 1.26 kg
Carton weight (kg): 9.66 kg
Quantity of the boxes per pallet (by air)(pcs): 144
Quantity of the boxes per pallet (by sea)(pcs): 288
Ostale informacije