CANYON 9 in 1 USB C hub, with 1*HDMI: 4K*30Hz,1*Gigabit Ethernet,, 1*Type-C PD charging port, Max 100W PD input. 2*USB3.0,transfer speed up to 5Gbps. 1*USB 2.0, 1*SD, 1*3.5mm audio jack, cable 18cm, A
Dostava:
Iznos dostave 25kn
Može biti na Vašoj adresi u roku 1-3 radna dana
Dostupnost artikla:
Artikl je dobavljiv isti ili najkasnije drugi dan
Ostvarite 10% popusta na virmansko, gotovinsko i crypto plaćanje.
Popust se obračunava na kraju narudžbe.
Pregled vrsta plaćanja
Pregled vrsta plaćanja
Popust za gotovinu:
405,41 Kn
Gotovina, pouzeće, internet bankarstvo ili kriptovalute.
Kartice jednokratno:
427,93 Kn
Platite karticom jednokratno ili putem Paypala.
Obročna otplata:
450,45 Kn
Platite do 36 rata bez kamata i naknada.
Leanpay do 36 rata:
450,45 Kn
Leanpay omogućuje brzo i jednostavno plaćanje na rate preko interneta. Za plaćanje na rate u košarici odaberite Leanpay kao vrstu plaćanja. Informativni izračun ne uključuje troškove procjene rizika.
Više informacija
|
Provjerite svoj limit
9 port USB-C Hub DS-11
A new level of functionality - 9 ports for universal connectivity! With this hub, you can connect almost everything you need for home and work via a single USB-C port: HDMI monitor, headphones or speakers, USB devices, as well as directly connect to the Internet via Gigabit Ethernet. Two USB-A 3.0 ports and one USB-A 2.0 port allow you to use all the necessary computer peripherals. Two SD and Micro SD card slots enable the instant transfer of large amounts of data. The up to 100W USB-C PD port charges any of your connected devices at optimal speed. The lightweight and durable housing is made of aluminum and prevents interference in signal transmission. The hub is "Plug and Play" and does not require additional software. Maximum functionality for your gadgets!
Features:
9 ports
Compact size
Ethernet 1000 ?bit/s
4K Ultra HD
2 ? USB-A 3.0
1 ? USB-A 2.0
Audio 3.5 mm
USB-C data transfer
USB-C PD charging, 100W
SD, Micro SD card readers
Aluminum housing
Compatible with computers, tablets and smartphones
Plug and Play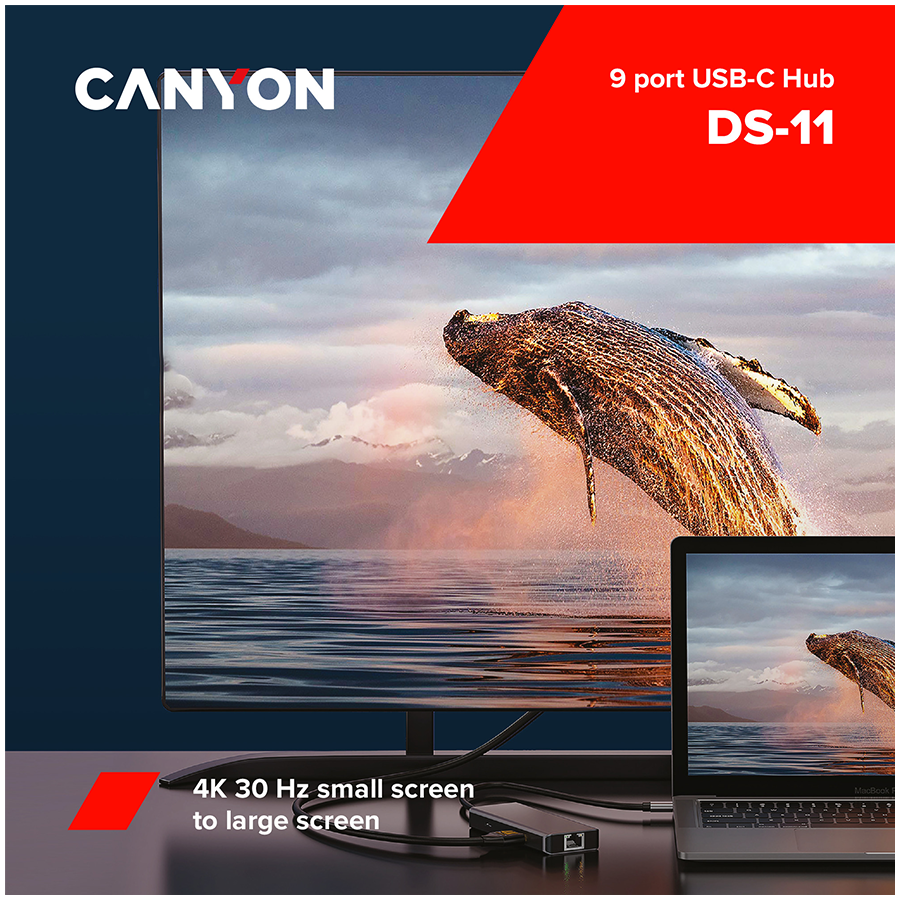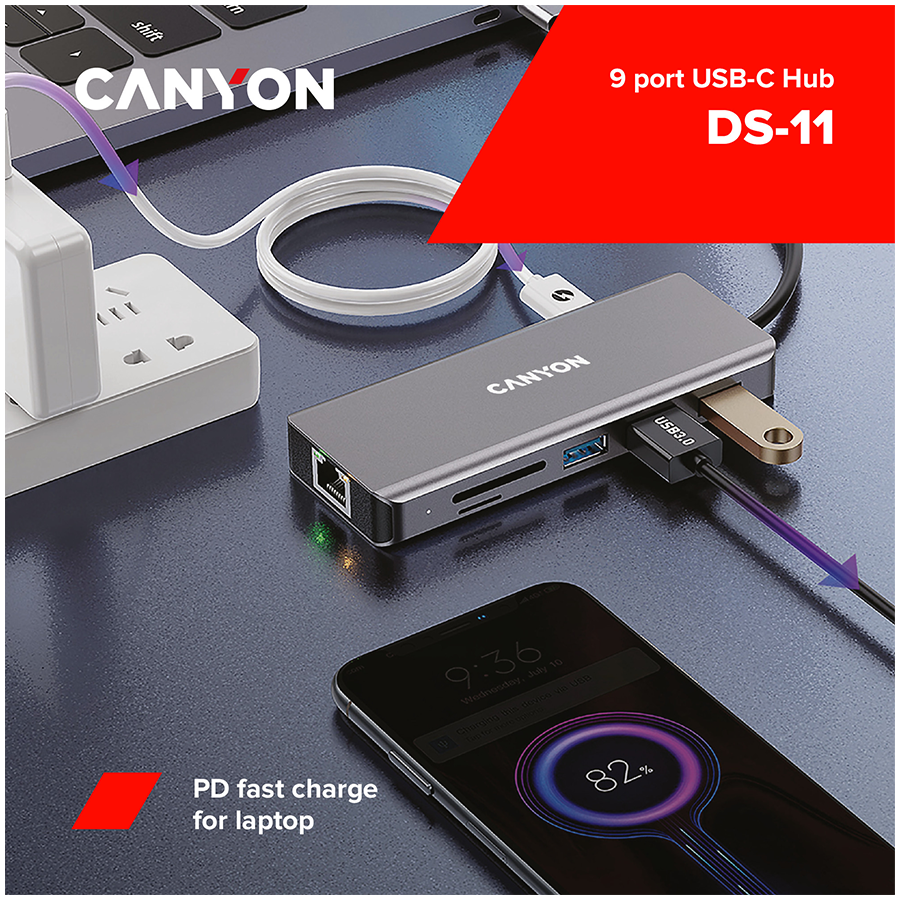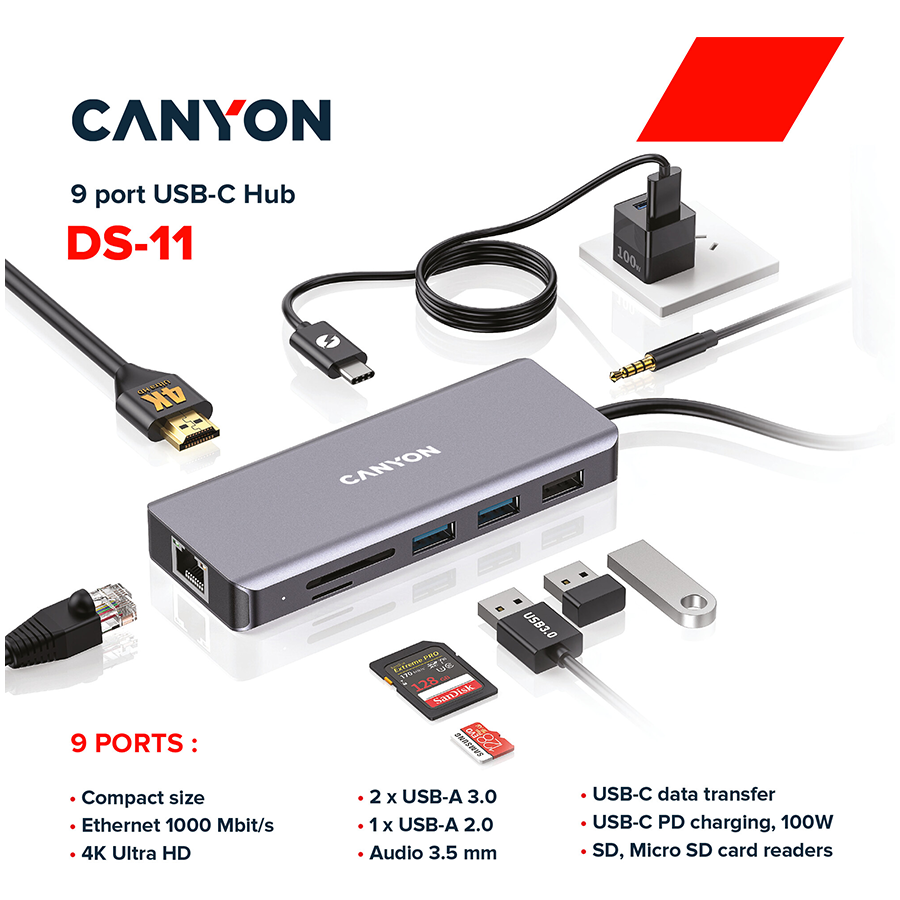 Marketing Model Name: DS-11
Abbreviated Description: |English9 in 1 USB C hubEnglish|
External Color: Dark Gray
Interface: USB Type C
Provides Ports: USB Gigabit Ethernet Audio-In HDMI
Cable Length: 0.18 m
Card Reader: SD
HDMI: 1 (HDMI (Type A))
LAN: 1 (RJ-45)
USB: 1 (USB Type-C)
USB 3.0: 2 (USB 3.0 (type A))
USB 2.0: 1 (USB 2.0 (type A))
Audio Interface: 1 (3.5-mm minijack)
Width (mm): 15 mm
Height (mm): 46 mm
Depth (mm): 115 mm
Nominal Weight: 88.5 g
Warranty Products Returnable: Yes
Warranty Term (month): 24 month(s)
Warranty validation Criteria: Serial Number
Pack Length (mm): 87 mm
Pack Width (mm): 160 mm
Pack Height (mm): 29 mm
Pack Weight Brutto (kg): 0.17 kg
Pack Weight Netto (kg): 0.095 kg
Pieces in pack: 1
Box Length (mm): 325 mm
Box Width (mm): 370 mm
Box Height (mm): 289 mm
Box Weight Brutto (kg): 11 kg
Retail Packaging Net Weight Carton: 0.08 kg
Retail Packaging Net Weight Plastic: 0 kg
Packs in Box: 60
Package Type: Retail
EAN Code: 5291485008680
Ostale informacije