Canyon 2.4 GHz Wireless mouse ,with 3 buttons, DPI 1200, Battery:AAA*2pcs ,special military67*109*38mm 0.063kg
Šifra artikla:
CNE-CMSW11SM
Dostava:
Iznos dostave 19kn
Može biti na Vašoj adresi u roku 1-3 radna dana
Dostupnost artikla:
Artikl je dobavljiv isti ili najkasnije drugi dan
Ostvarite 10% popusta na virmansko i gotovinsko plaćanje
obračunava se na kraju narudžbe -
46,93 Kn
Obročno plaćanje:
3 * 17,38 Kn
6 * 8,69 Kn
12 * 4,35 Kn
Wireless Optical Mouse With Pixart Sensor Canyon MW-11
This right-handed mouse is powered by Pixart, the world leader in durable and high-precision, sensors. The sensor was created to be applied to any surface, and 3 firm buttons of the mouse can withstand 3 million clicks. The mouse is coated with solid materials using UV Matt technology, protecting the mouse from cracks and scratches and increasing the durability of the device. A stable wireless connection provided by a 2.4 GHz USB receiver allows you to maintain uninterrupted connection, making the mouse a decent assistant for every day.
Wireless 2.4 GHz USB connection
Optical sensor Pixart 3065
Each of the 3 buttons can handle 3 mln clicks
1200 DPI resolution
UV Matt covering technology
2 AA? batteries included in packaging
Sizes: 107?38?67
Weight: 63g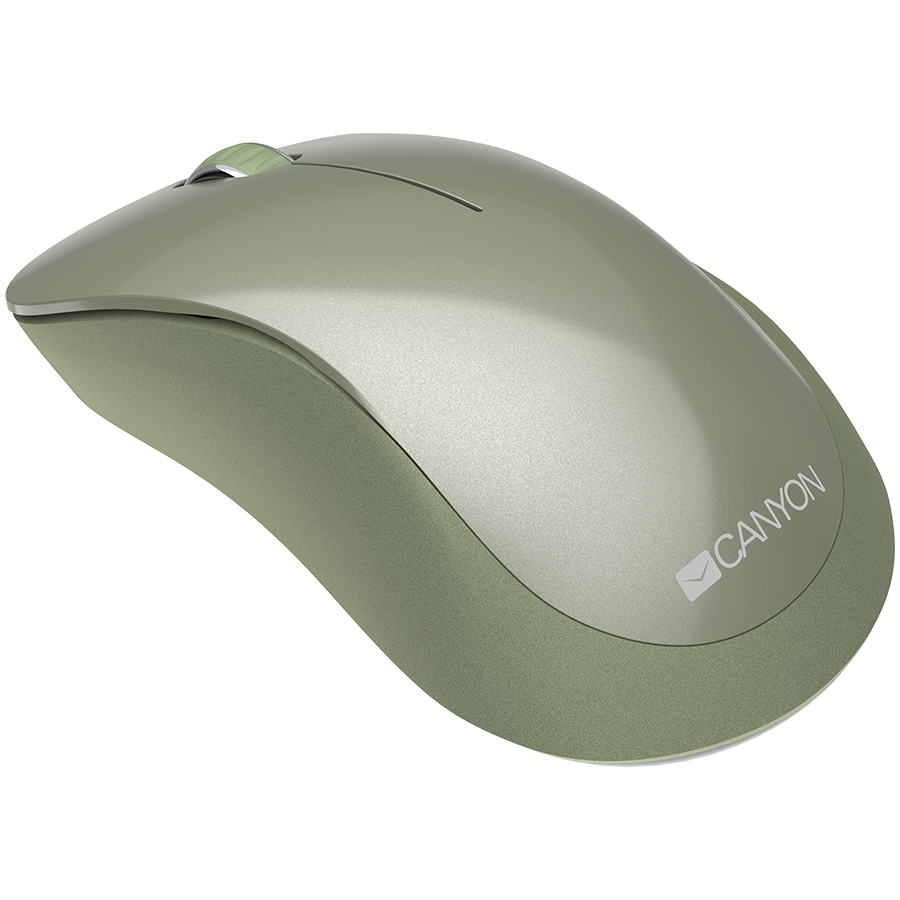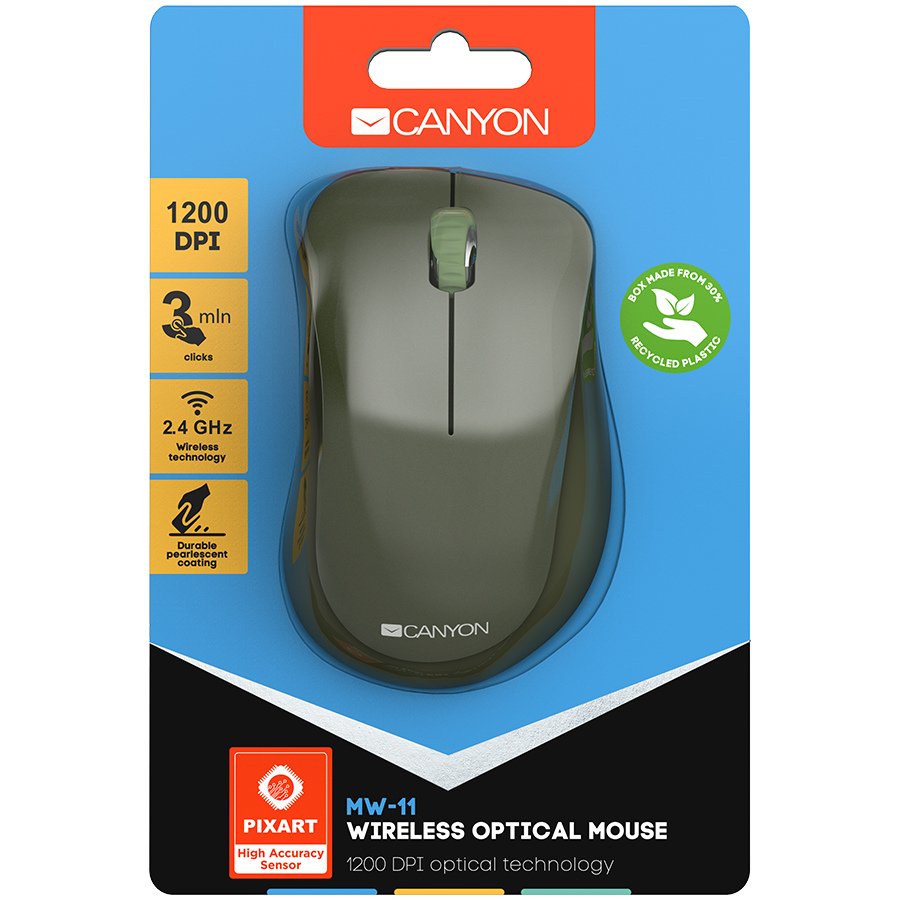 Device Location: External
Connectivity Technology: Wireless
Wireless Technology: RF
Frequency: 2.4 GHz
Number of Buttons: 3
Movement Resolution: 1200 dpi
Supports Battery Type Classification: AAA
Battery Included Quantity: 2
External Color: Special Military
Depth (mm): 109 mm
Height (mm): 38 mm
Width (mm): 67 mm
Nominal Weight: 0.063 kg
Warranty Products Returnable: Yes
Warranty Term (month): 24 month(s)
Warranty validation Criteria: Serial Number
Pack Length (mm): 125 mm
Pack Width (mm): 42 mm
Pack Height (mm): 185 mm
Pack Weight Brutto (kg): 0.127 kg
Pack Weight Netto (kg): 0.107 kg
Pieces in pack: 1
Box Length (mm): 385 mm
Box Width (mm): 380 mm
Box Height (mm): 275 mm
Box Weight Brutto (kg): 5.08 kg
Retail Packaging Net Weight Carton: 0.013 kg
Retail Packaging Net Weight Plastic: 0.007 kg
Packs in Box: 40
Package Type: Retail
EAN Code: 5291485006761
Dimensions of pallet (by air)(cm): 1150x870x150 mm
Quantity of the boxes per pallet (by sea)(pcs): 42
Dimensions of pallet (by sea)(cm): 1150x870x2040 mm
Ostale informacije