CANYON ?-20B03, PD 30W/QC3.0 18W Pocket size car charger with 1-USB A+ 1-USB-C Input: DC12V-24V, Output: USBC: PD30W( 5V3A/9V3A/12V2.5A/15V2A/20V1.5A),USB-A:QC3.0 18W (5V3A
Šifra artikla:
CNS-CCA20B03
Dostava:
Iznos dostave 3,50 EUR
Može biti na Vašoj adresi u roku 1-3 radna dana
Dostupnost artikla:
Artikl je dobavljiv isti ili najkasnije drugi dan
Ostvarite 10% popusta na virmansko, gotovinsko i crypto plaćanje.
Popust se obračunava na kraju narudžbe.
Pregled vrsta plaćanja
Pregled vrsta plaćanja
Popust za gotovinu:
10,27 EUR
Gotovina, pouzeće, internet bankarstvo ili kriptovalute.
Kartice jednokratno:
10,84 EUR
Platite karticom jednokratno ili putem Paypala.
Obročna otplata:
11,41 EUR
Platite do 36 rata bez kamata i naknada.
Leanpay do 36 rata:
11,41 EUR
Leanpay omogućuje brzo i jednostavno plaćanje na rate preko interneta. Za plaćanje na rate u košarici odaberite Leanpay kao vrstu plaćanja. Informativni izračun ne uključuje troškove procjene rizika.
Više informacija
|
Provjerite svoj limit
Car Charger ?-20B03

The C-20B03 car charger model can charge two mobile devices with different connectors at the same time. One port is designed for USB-C gadgets and provides fast and safe charging using PD protocol. The second one with Quick Charge 3.0 protocol is intended for the USB-A connector. The adapter is protected from short circuits, overheating, and overcurrent.
Features:
Fast charging adapter
USB-C port, protocol PD - 30W
USB-A port, protocol QC 3.0 - 18W
4 types of protection
Input voltage: 12-24V
Output 1: USB-C PD port, DC 5V/3A, 9V/3A, 12V/2.5A, 15V/2A, 20V/1.5A
Output 2: USB-A port, DC 5V/3A, 9V/2A, 12V/1.5A
Compatible with most smartphones, mobile phones, tablets, PSP, GPS, cameras, MP3, MP4, PDA, etc.
Certifications: CE, RoHS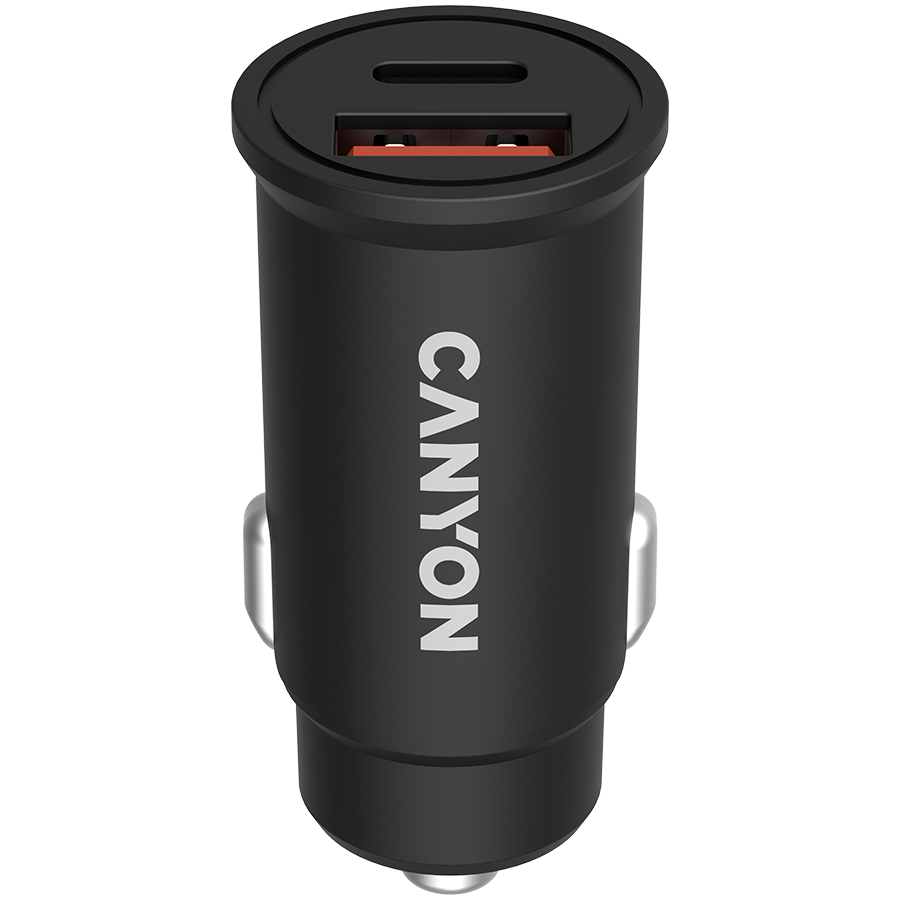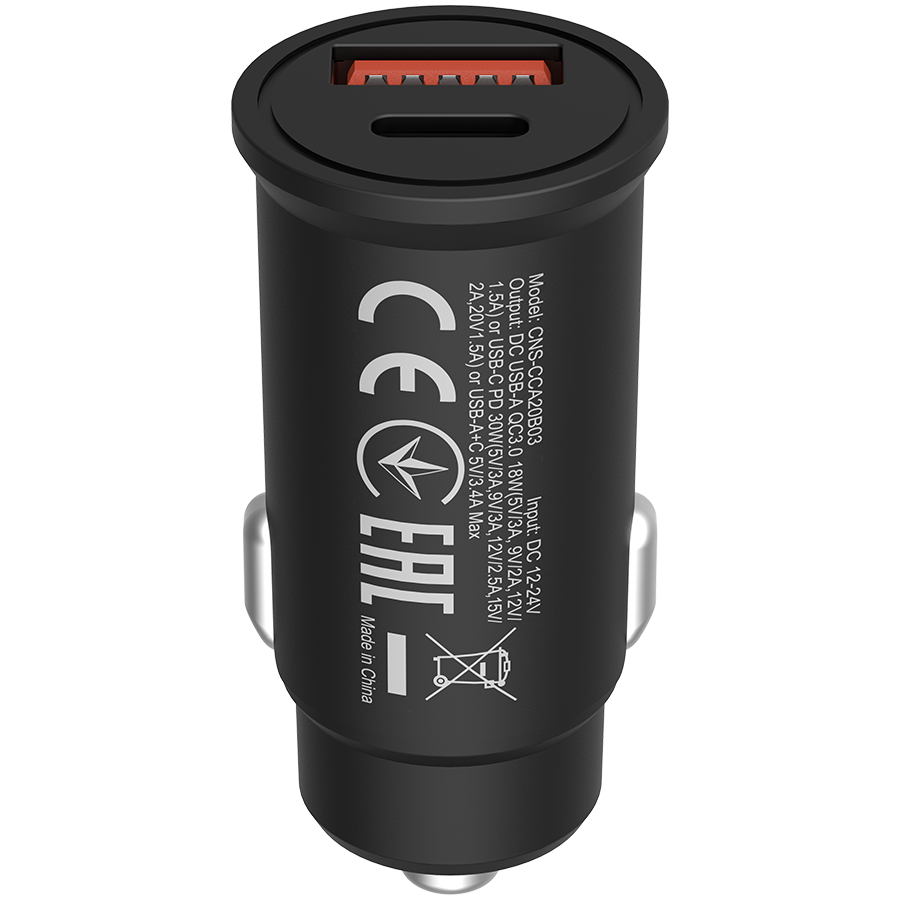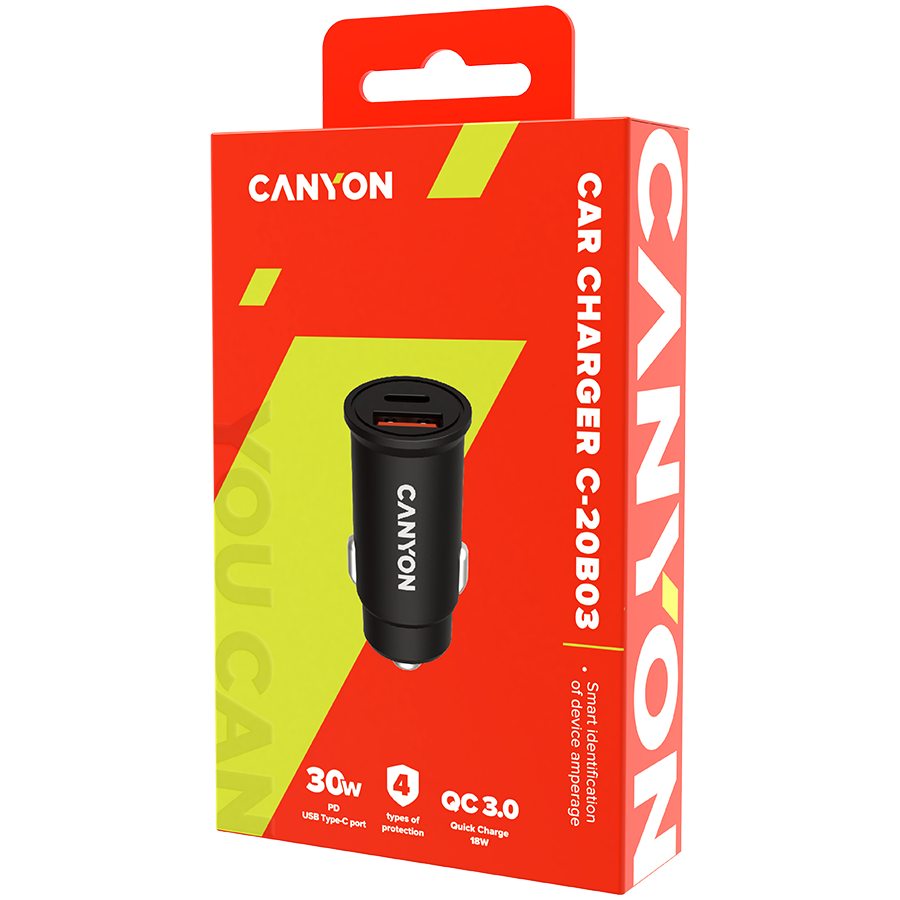 Marketing Model Name: C-20B03
Commercial Name: Car charger Canyon C-20-03 PD 30W QC 3.0 18W USB-C USB-A black (CNS-CCA20B03)
Power Device Type: Car Adapter
Power Device Location: External
Input Power Connectors Quantity: 1
Input Power Connectors Type: Cigarette Lighter Receptacle
Rated Current: 5 A
Maximum Output Power: 30 W
Output Power Connectors Quantity: 2
Output Power Connectors Type: USB/USB-C
Power Adapter and Power Supply Features: Qualcomm Quick Charge 3.0Power Delivery
USB Type A: 5V 3A18W (Quick Charge 3.0)
USB Type C: DC 5/9/12/15/20V 5A30W
External Color: Black
Depth (mm): 50.6 mm
Height (mm): 23.4 mm
Width (mm): 23.4 mm
Nominal Weight: 0.014 kg
Warranty Products Returnable: Yes
Warranty Term (month): 24 month(s)
Warranty validation Criteria: Serial Number
Pack Length (mm): 81 mm
Pack Width (mm): 28 mm
Pack Height (mm): 127 mm
Pack Weight Brutto (kg): 0.026 kg
Pack Weight Netto (kg): 0.014 kg
Pieces in pack: 1
Box Length (mm): 460 mm
Box Width (mm): 272 mm
Box Height (mm): 268 mm
Box Weight Brutto (kg): 2.94 kg
Retail Packaging Net Weight Carton: 0.012 kg
Retail Packaging Net Weight Plastic: 0 kg
Packs in Box: 90
Package Type: Retail
EAN Code: 5291485008437
Carton weight (kg): 2.94 kg
Quantity of the boxes per pallet (by air)(pcs): 45
Quantity of the packs per pallet (by air)(pcs): 4050
Dimensions of pallet (by air)(cm): 1000x1490x1200 mm
Quantity of the boxes per pallet (by sea)(pcs): 63
Quantity of the packs per pallet (by sea)(pcs): 5670
Dimensions of pallet (by sea)(cm): 1000x2026x1200 mm
Ostale informacije